EDC Flashlights from NITECORE
Prepare for whatever life sends you way with everyday carry flashlights from NITECORE. Whether you're looking for something you can clip on your keychain for late night walks or a flashlight with a more tactical-style body, we have a robust line up of compact flashlights you'll love to EDC.
What is an EDC flashlight (and why do I need one?)
EDC stands for Everyday Carry and refers to items that are essential for your daily survival. For many of us, a flashlight is one of the most essential tools and wouldn't dream of leaving home with one. Not convinced? Check out this blog on why you should always EDC a flashlight.
That said, the definition of an EDC flashlight varies from user to user. A police officer's EDC light is probably going to be larger and more robust, while an office worker might only need a keychain flashlight. The following are the common considerations you will want to make when picking out your own EDC flashlight: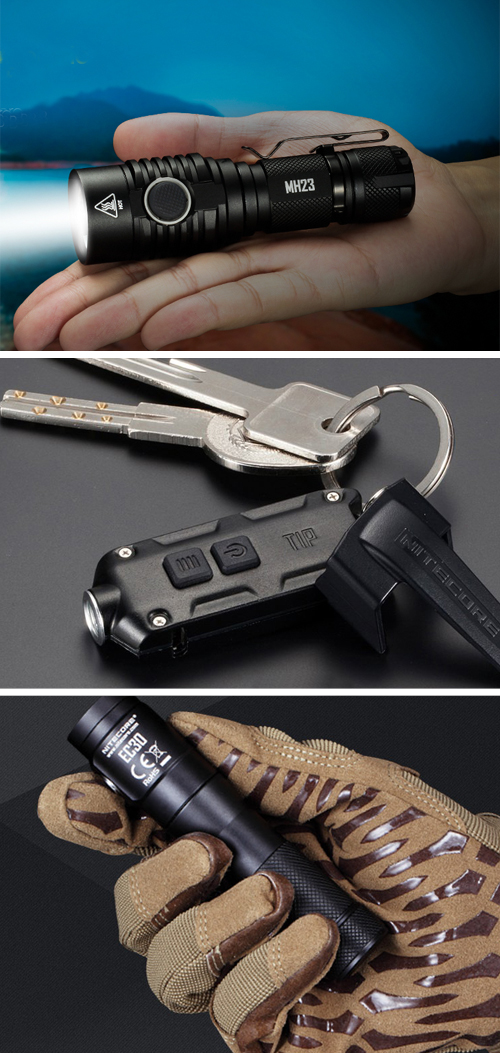 Size
When it comes to everyday carry flashlights, small and compact is best. If you're going to carry your torch with you day in and day out, you want it to be something you can keep in your pocket, bag or keychain and access easily. Otherwise, what's the point?
That said, small is subjective. You want to aim for flashlight that fits comfortably in your palm and has buttons you can easily press. For those of you with larger hands, super small keychain flashlights like the NITECORE TINI may not be for you, but slightly larger flashlights like the TIP, TUP, and EC30 will be right up your alley.
The other caveat to remember with size is the impact it has on output and performance. NITECORE has done a lot to maximize the run time on all our flashlights, but eventually to reach certain outputs and runtimes, a larger flashlight is needed. It may take some trial and error for you to find the happy medium between size and performance for your EDC, but it's well worth taking the time in the long run.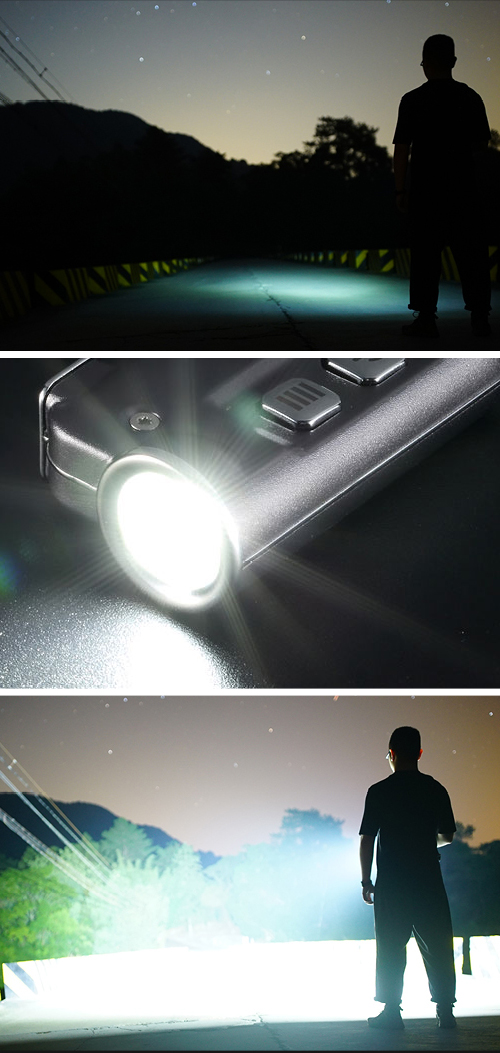 Brightness
"How bright should an EDC flashlight be?" is a common question we get asked. This is probably where the biggest variation in personal preference will come in with EDC flashlights. Consider what types of uses you'll be using your flashlight for. If your everyday mostly relies on needing a small boost of light – for example, searching for a dropped item under your desk – you likely don't need the power of a full 1000 lumens. If you're a car mechanic or law enforcement officer, a flashlight that bright might not only be preferable, but necessary.
So how much output is enough? For anything that's up close – within a few yards of your body, you probably only need a few hundred lumens. Options like the TIP, TINI or MT06MD are great these purposes. If larger distances come into play for you frequently, you may want to consider a 1000 lumen or brighter flashlight. Our top picks from this range include the NITECORE P18 and NITECORE MH12GTS which boast 1800 lumen outputs!
Beam Profile
Have you ever wondered how two flashlights claiming to be 1000 lumens can make beams that look completely different? One might have a very hot center that causes glare, while another might create a beam that is very diffused and appears less bright overall.
This is what we mean by the beam profile, and it is affected by two things: the lens and the reflector. As a reflector gets deeper and more elongated, light also becomes more focused and can throw farther, whereas a shallower reflector will create a more even effect. Similarly, a smooth clear lens is best for focused output while a beaded or TIR lens is usually desirable for short range.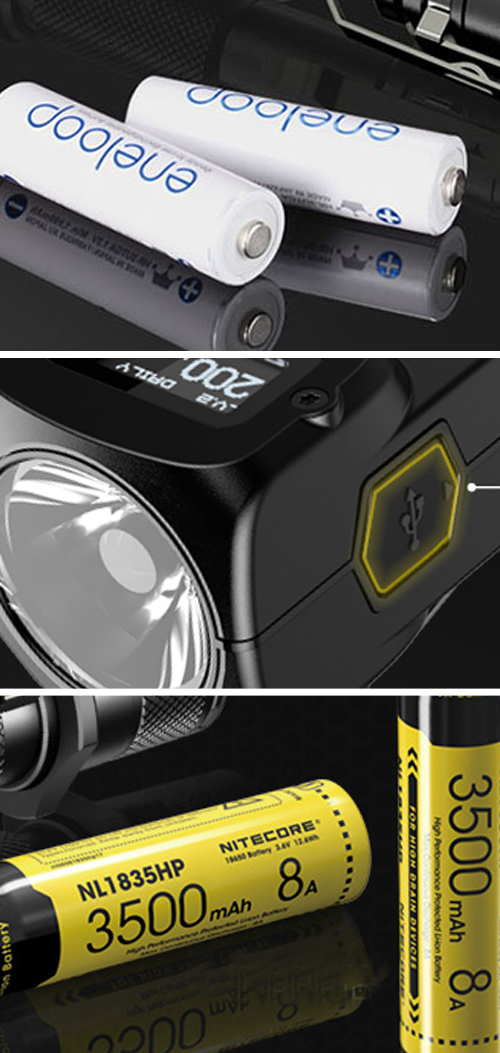 Battery Source
Another important factor to consider is the battery source. First and foremost, pick a power source you're comfortable with. For some people, this may mean a AA or AAA powered flashlight. Batteries for these flashlights are universally sourceable and require very little maintenance. Some of our favorite AA and AAA lights include the MT06MD and MT20A.
Another great option if you want to keep your EDC simple is built-in rechargeable flashlights. Typically charged via a USB cable, these flashlights allow you recharge at home and on the go. They also help to keep your gear slim as no external charger is needed. If USB charging is your thing, try the NM01 or TIP2.
Of course, for some people, a more robust battery solution like an 18650 li-ion battery will be the way to go. NITECORE has several bright, compact flashlights perfectly suited for everyday carry and powered by a single 18650 like the MT21C or MH12GTS. If your EDC needs serious power, these are the way to go.
How much does an EDC flashlight cost?
Thankfully, the size of EDC flashlights make entry-level lights quite affordable. In general, you can find a high quality EDC light starting at $30. From there the sky's the limit, although most options available max out at $150.
What is the best EDC flashlight?
The crown for the best EDC flashlight is a hot debate and will only get more competitive as the popularity of these style flashlights increases. Within just the NITECORE line of flashlights, there are numerous flashlights that could argue for the title. Instead, here are some recommendations to help narrow down the field based on common needs.
Best EDC keychain lights
Why we like it: Weighing less than half an ounce, the NITECORE TINI is the absolute smallest keychain flashlight in our collection. And yet, at 380 lumens bright, the TINI is bright enough for emergency backup and a boost of light for reading when you need it.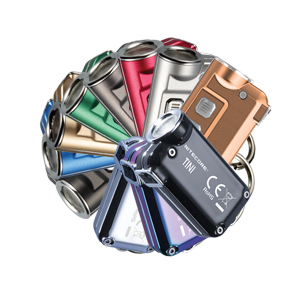 Why we like it: 720 lumens in a body the size of your thumb … do we need to say more? If you say so! The TIP2 also includes a magnetic tail cap that protects the built-in charging port and lets you use the light hands-free. Whether you carry this one on your keychain or use the removable pocket clip, you won't want to leave home without it.
Best EDC flashlights with built-in charging
Why we like it: If you want something that not only has built-in charging, but saves you the hassle of finding replacement batteries altogether, the NITECORE NM01 is your pick. The small, pocket-friendly body produces a 1000 lumen bright beam controlled by a rear tail switch.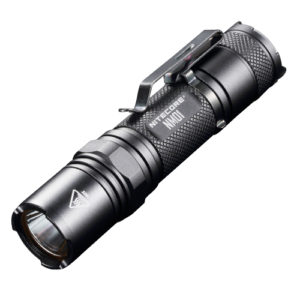 Why we like it: If you want to treat yourself to a flashlight that feels luxurious, consider the NITECORE TUP. A 1000 lumen output is complimented by an easy-to-read OLED display that reports crucial operating information such as remaining runtime, brightness level, and battery level.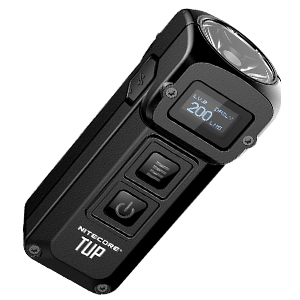 Best EDC flashlights with red light
Why we like it: When you want the power and controls of a tactical flashlight in a durable body that's comfortable in your pocket, the NITECORE P18 is there. At 1800 lumens bright on TURBO and paired with a secondary red output, the P18 is ideal for photographers, law enforcement, military, and camping.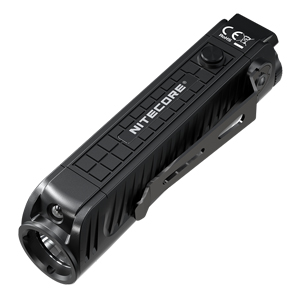 Why we like it: Two things set the MT20A apart for us. First, the pen-style body is great for carrying in a front pocket while the AA power source means you'll always be able to find replacements, no matter where you are in the world.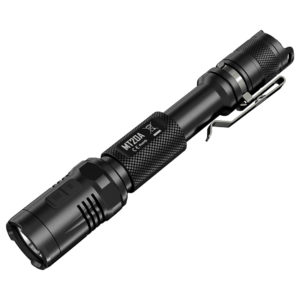 Best EDC flashlights for self defense
Why we like it: Put the power of STROBE right at your finger tips with the NITECORE P10GT. The unique STROBE Ready tail cap lets you directly access this self-defense tool with a quick tap of a button from the rear of the flashlight.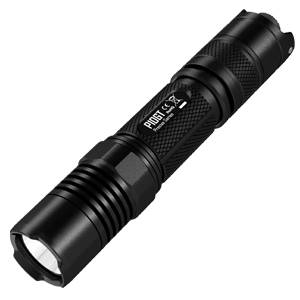 Why we like it: If you want something super concealable, try the NITECORE MT10C. A bright, 920 lumen output can be used to disorient an attacker or weapon mounted for home defense while the crenulated bezel can be used for striking or glass breaking.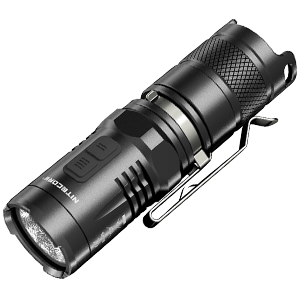 Best EDC flashlights with holsters
Why we like it: Just one of the many improvements on the NEW P12 is a redesigned tactical holster. The included NTH10 is a hard, slim holster that puts your flashlight at the quick and ready. A belt spacer lets you adjust this holster for most duty belts.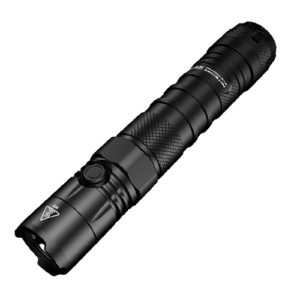 Why we like it: It doesn't matter if you're a law officer or auto mechanic, the NITECORE MH12GTS is one of those flashlights that we recommend over and over, and for good reason. At 1800 lumens bright, it's one of the brightest EDC flashlights around and the USB charging makes staying powered a piece of cake. And yes, the MH12GTS comes with a nylon holster so you can keep this all-around flashlight at your side both day and night.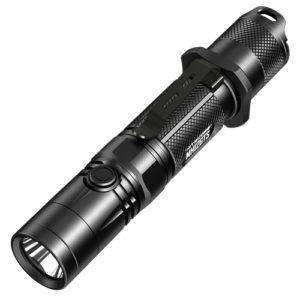 ---
LEARN MORE ABOUT EDC FLASHLIGHTS
Keep reading below for blog posts about EDC flashlights and everyday carry.
---
Small, bright, and by your side. Keeping a flashlight by your side is one of the easiest and more important ways to stay prepared. Whether you're carrying for work or backup, there's a NITECORE flashlight to suit your style. Today we're counting down the top 5 EDC flashlights from NITECORE in 2020. Will your favorite […]