When it comes to battery chargers, NITECORE has a well-earned reputation for some of the most reliable and efficient chargers available. If you're looking for a charging solution for your rechargeable batteries, this battery charger buying guide will get you familiar with NITECORE's extensive line of battery chargers and everything you need to know about charging your batteries.
Understanding NITECORE Charger Series
With over 15 different charging solutions available, NITECORE has something for every need. Here's a quick overview of the different series available to get you started.
Supported Batteries
Li-ion
All NITECORE chargers support rechargeable li-ion batteries. These energy dense batteries are common in flashlights, headlamps, vape devices and other electronics. When picking out a charger, make sure you review the supported sizes to make sure the batteries you need to charge will fit in the slots provided.
LiFePO4
Less common than li-ion batteries, LiFePO4 batteries are still supported by a majority of chargers in the i, D, and SC series. This chemistry often requires a specific charging current and/or voltage so consider a D or SC series charger which offers the most control over the charging experience.
Ni-mh/Ni-cd
What about rechargeable AA, AAA, C and D battery types? Many of NITECORE's chargers will work with these batteries too! Always review the manufacturer's specifications for compatibility and fit requirements but rest assured, NITECORE has a solution for your rechargeable Ni-Mh/Ni-Cd batteries too.
Standard Features on All NITECORE Chargers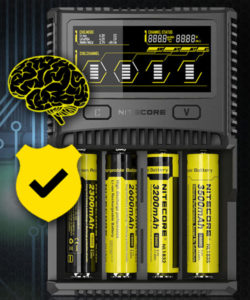 Intelligent Charging
All NITECORE chargers feature intelligent circuitry to automatically detect your battery and apply the optimal charging current for each chemistry. This prolongs the life of your battery and gives you the quickest charge possible for your configuration.
Standard Safety Protection
Did we say our chargers are smart? With features like automatic charging timeout, reverse polarity detection and short circuit prevent, you can rest assured your batteries will be safe throughout the charging process.
Advantages of an External Charger
"But, my flashlight has a built-in charging port! Do I really need an external charger?" you say. If you're a casual user, you can probably get away without one. However, if you find yourself constantly needing to charge your batteries or rely on your flashlight for work, an external charger is definitely for you.
Charge multiple batteries at once
Built-in charging is great until you realize that you can only charge one set of batteries at once. External chargers open up the ability to charge all your batteries in one easy location and ensure you always have a backup pair ready to go.
Ability to use device while backup batteries are charging
Similar to being able to charge multiple batteries at once, external chargers also make sure you can use your device while your batteries are charging. Some NITECORE flashlights do have pass-through charging so you can use the light while charging, but you're still limited by a power cable or need to carry a power bank alongside your flashlight. An external charger simplifies this by giving your batteries a dedicated place to charge and freeing your device to do its intended job.
Faster charging speeds
Although the convenience of a built-in charging port can't be denied, this solution isn't always the fastest. If speed matters to you, an external charger is the way to go.
Fast Charging with USB Power
More and more devices are moving to USB power inputs due to universal compatibility and widespread availability. However, you've likely run into at least one instance where a USB charger seemed to take forever to power your device even though it's supposed to be "QuickCharge" capable.
To understand what's going on there and how to prevent it with the right power adapter or source, you'll want to check out our guide to fast charging with USB power.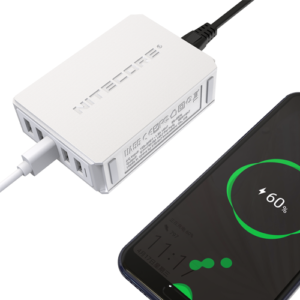 Camera Battery Chargers
It's worth mentioning that cylindrical batteries aren't the only batteries NITECORE makes chargers for. Over the past several years, NITECORE has expanded into camera battery chargers for many popular camera brands and models including Canon, Nikon, Leica, and Hasselblad. Designed for photographers on the go, these USB-powered camera battery chargers offer a third-party solution that's fast, efficient and budget-friendly.
Compare NITECORE Battery Chargers