Updated 5/1/2019
You might be thinking: "What do I need a keychain light for? I have a flashlight on my cell phone!"  And you're right, most smartphones can easily be turned into a mini flashlight with the camera flash LED. In a pinch, this light can do the trick, too. However, what happens when you need to use your phone and light at the same time? Or if your phone battery runs out?  
Not only does a keychain flashlight run independently of your smartphone, but in most cases is going to be much brighter than your phone flashlight could ever be. The result is a much more practical source of light that you can control without the need of your cellular device. If you're the kind of person who likes to be prepared for anything, this advantage is huge.
Why Carry a NITECORE Keychain Flashlight
In 2016, NITECORE released their revolutionary keychain flashlight, the TIP, to much excitement. At the time, the TIP was the brightest flashlight of its size and an answer to EDC'ers dreams. Flash forward to today and NITECORE has continued to expand on this line of powerful yet oh-so-tiny flashlights, meaning there's a light for pretty much anyone!
Built-in USB Charging
If brightness is the most important feature on a keychain flashlight, battery and charging come in at a close second. All of NITECORE's keychain flashlights include a built-in li-ion battery and micro-USB charging port so it's easy to stay powered no matter where you go. Simply plug a USB cable into an AC adapter, laptop, power bank, solar panel or other power source and the flashlight will handle the rest.
Lightweight and Compact
Don't be weighed down with bulky accessories on your keychain! All of our keychain flashlights are designed to be so lightweight you won't even notice them whether you're carrying on a key ring, in your pocket or tucked in a bag.
Stylish Options
There's a NITECORE keychain flashlight for everyone! Our TIP and TINI come in 11 different colors across 3 body finishes while the TUBE's can be found in 10 colors. Need some help picking a body finish?
Aluminum: Our most popular option, aluminum keeps your keychain flashlight the lightest it can be without sacrificing strength.
Stainless Steel: If you want some a little denser, you might want to consider our stainless steel option which comes with a PVD titanium coating for extra style points.
Copper: For those of you looking to turn your flashlight into a work of art, this naturally antimicrobial metal will develop a unique patina over time.
Compare NITECORE Keychain Flashlights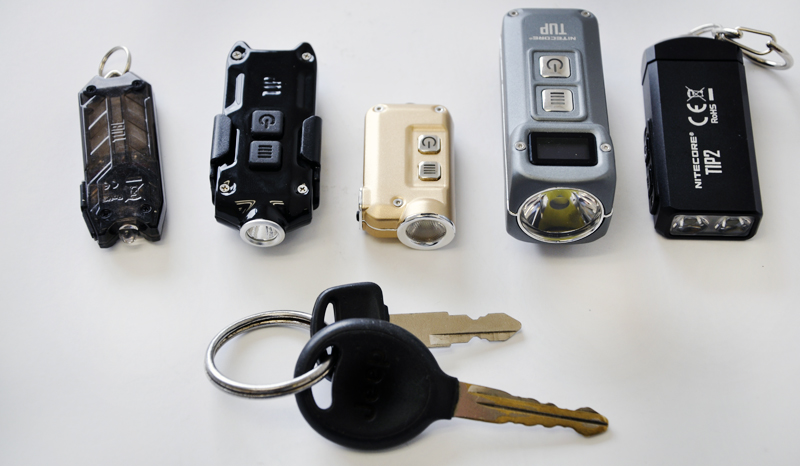 | | | | | | | | |
| --- | --- | --- | --- | --- | --- | --- | --- |
| Model | LED | Max Brightness | Throw Distance | Dimensions | Weight | IP Rating | Colors Available |
| TIP2 | CREE XP-G3 S3 | 720 lumens | 101 yards | L-2.46"xW-1.06"xH-0.53" | 1.35 oz | IP67 | Black |
| TUP | CREE XP-L HD V6 | 1000 lumens | 197 yards | L-2.76"xW-1.16"xH-1.16" | 1.87 oz | IP54 | Black, Grey |
| TIP 2017 | CREE XP-G2 S3 | 360 lumens | 81 yards | L-2.39"xW-0.96"xH-0.54" | 0.83 oz | IP54 | Black, Blue, Gold, Green, Grey, Red, Silver |
| TIP SS | CREE XP-G2 S3 | 360 lumens | 81 yards | L-2.39"xW-0.96"xH-0.54" | 1.13 oz | IP54 | Jet Black, Glacier, Tropical |
| TIP Cu | CREE XP-G2 S3 | 360 lumens | 81 yards | L-2.39"xW-0.96"xH-0.54" | 1.28 oz | IP54 | Copper |
| TINI | CREE XP-G2 S3 | 380 lumens | 70 yards | L-1.7″xW-1″xH-0.45″ | 0.47 oz | IP54 | Black, Blue, Gold, Green, Grey, Red, Silver |
| TINI SS | CREE XP-G2 S3 | 380 lumens | 70 yards | L-1.7″xW-1″xH-0.45″ | 0.76 oz | IP54 | Jet Black, Glacier, Tropical |
| TINI Cu | CREE XP-G2 S3 | 380 lumens | 70 yards | L-1.7″xW-1″xH-0.45″ | 0.76 oz | IP54 | Copper |
| TUBE | — | 45 lumens | 26 yards | L-2.22"xW-0.83"xH-0.31" | 0.34 oz | IP65 | Azure, Black, Green, Olive, Orange, Pink, Transparent, Lemon, Blue, Jacinth |
| THUMB | — | 85 lumens | 28 yards | L-2.91"xW-0.94"xH-0.62" | 0.88 oz | IP65 | Black |
| THUMB LEO | — | 45 lumens / 500mW UV | 26 yards | L-2.91"xW-0.94"xH-0.62" | 0.88 oz | IP65 | Black |