Key takeaways:
Nitecore Chargers have intelligent charging which helps prolong the life of the battery.
Safety protections help ensure the batteries aren't damaged
Nitecore Chargers are known around the globe for reliability, affordability, and quality.
Nitecore has an array of chargers designed to meet your needs.
Why NITECORE Chargers
There are plenty of options out there for battery chargers, so we understand what it means when you pick a Nitecore charger to power your gear. These are just a few reasons why we stand out above the competition: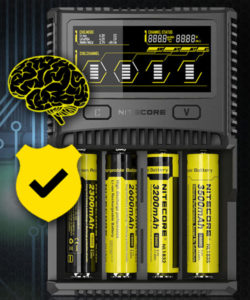 Intelligent Charging
All NITECORE chargers feature intelligent circuitry to automatically detect your battery and apply the optimal charging current for each chemistry. This prolongs the life of your battery and gives you the quickest charge possible for your configuration.
Safety Protections Come as Standard
Did we say our chargers are smart? With features like automatic charging timeout, reverse polarity detection and short circuit prevent, you can rest assured your batteries will be safe throughout the charging process.
Known Worldwide
NITECORE chargers are known around the globe for reliability, affordability, and quality. Whether you're charging batteries for your flashlight, vape, or other devices, know you're in good hands.
NITECORE Charger Series Guide

UM Series
Ideal for travel, these digital chargers are slim and powered by USB input for universal compatibility. For a budget-friendly option you can use to charge li-ion and IMR batteries on the go, try UM10 (single slot), or UM20 (dual slot). Or for even faster speeds, try the QuickCharge enabled UMS2 or UMS4.


D Series
Want something a little fancier? The D Series is our fully digital universal charging option available in 2-slot (D2) and 4-slot (D4) versions. Whichever you choose, a brightly lit screen will report key charging and battery information so you'll always know what's going on.

SC Series
For those of you that demand the best and fastest available, look no further than the SC series. Speedy charging and an easy to read digital display make the 2-slot SC2 and 4-slot SC4 the deluxe option for NITECORE chargers.

Q Series
If you're needing to charge li-ion and IMR batteries only, the NITECORE Q series combines fast charging speeds with a no-frills display in a lightweight and portable body. Available as a 2-slot (Q2), 4-slot (Q4), or 6-slot (Q6) options.

F Series
For a charger that doubles as a power bank, NITECORE offers the F1 single-slot and F2 dual-slot travel chargers. Use these chargers with a USB power source to recharge your li-ion/IMR batteries or toggle the device to output and use your full battery to power other devices!

Charging Gadgets
Sometimes a traditional charger isn't the best solution. That's why NITECORE developed several charging gadgets like the LC10 magnetic USB charging cable and VCL10 QuickCharge 3.0 car adapter. These chargers allow you to power your batteries and devices quickly and safely no matter where your adventure takes you while adding extra functionality like backup lights to keep you safe.
Compare NITECORE Chargers