In the Fall of 2017, NITECORE began introducing camera battery chargers to our line up of high quality charging products. With these chargers designed to meet the needs of busy photographers at home and on the road, we've been quietly expanding the models and brands supported ever since. If you're looking to supplement or replace your existing charger, you won't go wrong with these lightweight, USB compatible alternatives. Keep reading to see why choosing NITECORE makes a difference.
Standard Features on all NITECORE Camera Battery Chargers
It doesn't matter if you're shooting with a Sony or Leica camera, all of our camera battery chargers include the same standard features that set us above the competition.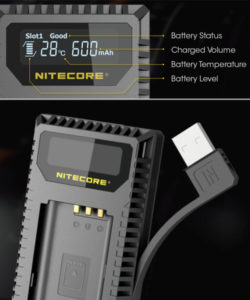 LCD Digital Display
You'll always know the charging progress of your battery and other important information thanks to a brightly lit and easy to read digital display.
USB Compatible
Finding power wherever you go is easier than ever with an included USB charging cable with every model. Use the cable with power banks, solar panels and laptops for USB powering or pair your charger with an AC adapter for traditional wall charging.
Lightweight & Compact for Travel
All of our camera battery chargers are constructed from flame-resistant PC materials and take up minimal space in your camera bag. With most chargers weighing around 2 ounces, chances are you won't even notice it's there!
NITECORE Camera Charger PRO Editions
This year, NITECORE has upped the game and introduced the PRO upgrade to their newest releases. Featuring the same intelligent charging capabilities as our standard models, the PRO editions contain a few extra goodies to make them even better than ever.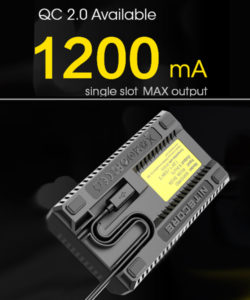 Faster charging speeds
It wouldn't be PRO without improving the charging speeds, and NITECORE has done just that! PRO camera battery chargers push the max charging speed from 1A to 1.2A so you'll spend less time charging and more time capturing the moments that matter.
Removable USB cable
Although we love the convenience of the stowable USB cable on the standard edition, NITECORE realized many users needed the ability to have a longer cable. The result: PRO editions include a removable USB cable that tucks into a groove along the bottom to prevent sliding. And even though the new included cable is much longer than before, you can supply your own to get the exact length you need!
(Tip: Wish the USB cable on one of the standard editions was longer? Try the NITECORE USB Extender Cable.)
Why NITECORE Camera Chargers
Wondering if it's safe to use a 3rd party charger for your camera batteries? The answer is yes! All of our charging products come standard with built-in safety protections to keep you and your gear safe from overcharging, overheating and short circuits.
Known Worldwide for Charging Products
NITECORE is known around the world for our high quality li-ion battery charging products including the wildly popular i2/i4, D2/D4 and SC2/SC4 models. Our chargers are all designed to intelligently and safely charge your batteries so you can stay powered wherever your travels take you. The same quality that flashlight users and vapers have come to expect is inherent in our NITECORE camera battery chargers.
Ever-Expanding Line of Brands & Battery Models
Maybe we don't support your favorite camera model yet, but give us time! NITECORE has been dedicated to adding support for many popular brands and models and shows no signs of stopping any time soon.