Nitecore Headlamps at a Glance:
The NU series offer lightweight, low profile options that are perfect for running, hiking, or camping.
The H series offer larger, more robust options that are perfect for exploring, search and rescue, or professional applications.
The NU series have built-in, rechargeable batteries.
The H series (mostly) have removeable batteries and longer run times.
If you've already read our blog post on picking out a headlamp, you probably have a good idea of the key features you need. (If not, go read it! We'll wait.)
In today's Nitecore headlamp guide, we're going deep into the heart of the Nitecore headlamp lineup so you can understand the differences between models and find exactly what you need whether you're camping, running, working, preparing or anything else in between.
NITECORE Headlamps – NU Series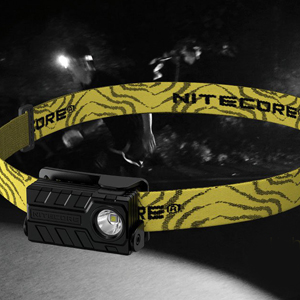 Lightweight for active users
The NU Series is where you'll find the lightest and most compact of Nitecore headlamps. Built-for the movers and shakers in the world, the NU series has options ideal for running, cycling, hiking and exploring.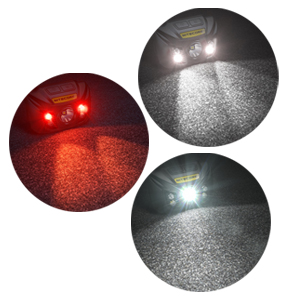 Multi-beam outputs
Some of the more robust NU headlamps offer multiple output types such as red or high CRI beams. For campers, red output is indispensable for maintaining night vision or searching through gear without disturbing a tent mate. And high CRI? For up-close reading and working, you can't beat the color and detail rendering from these sunlight-like LEDs.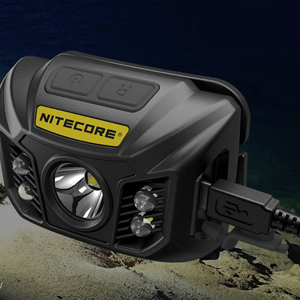 Built-in Battery & Charging
Powering the NU series is simple and convenient. Built-in batteries with USB charging ports give you plenty of options for power such as AC adapters, laptops, power banks and solar panels.
Top Picks in the NU Series
NITECORE NU32
Why we love it: The NU32 provides one of the best balances between size and performance with its 550 lumen primary white output and secondary red/high CRI outputs packed into a comfortable body you can wear for hours.
Who needs one: Outdoor enthusiasts, campers, photographers/videographers, hobbyists/crafters, cyclists
NITECORE NU25
Why we love it: The NU25 is one of the most versatile and compact of the Nitecore headlamp offerings. The NU25 packages three outputs (white/high CRI and red) into an ultra lightweight body you can wear comfortably for hours on end.
Who needs one: Runners, joggers, ultralight backpackers, outdoor enthusiasts
NITECORE NU05 MI
Why we love it: You can use the NU05 MI in many different ways. Its back clip is compatible with standard MOLLE systems on bags, straps, and body armor. Or directly attach it to a helmet or other surfaces with its hook and loop backed bracket. Plus is ultra-lightweight and USB rechargeable.
Who needs one: Law enforcement, military
NITECORE Headlamps – H Series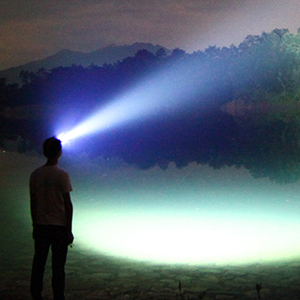 Brightest outputs for professional-grade performance
If you need a headlamp for work or just want the very best and brightest, the H series Nitecore headlamps offer some of the most robust and high performance around at a price that won't break your wallet. From the HU60's ultra bright 2700 lumen output to the HC65 with three output options, darkness doesn't stand a chance against the HC series.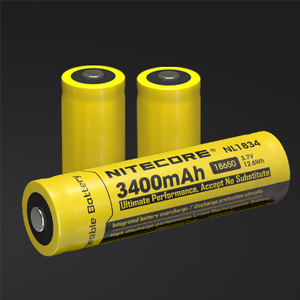 Removable, li-ion batteries for extended runtimes
As much as we love the simplicity and ease of the NU series' built-in batteries, you'll want something with a larger, replaceable battery to get the brightest outputs and longest runtimes. Plus, the ability to swap out spent batteries for a fresh set of backups means you aren't limited by the capacity of an internal cell.
The H series solves this issue by using powerful 18650 li-ion cells which can be charged externally (and on several models, in the headlamp itself!) and allow for the outputs professional users like yourself demand.
(The HU60 does not have a removable battery)
Top Picks in the H Series
NITECORE HC65
Why we love it: The HC65, simply put, has it all. 1000 lumen primary output? Check. Secondary red and high CRI? Check. Built-in charging? Check. Removable battery? Check, check check.
Who needs one: Mechanics, hunters, military, industrial/construction workers
NITECORE HC35
Why we love it: The HC35 L-shaped headlamp is the first next generation headlamp to feature a high performance 21700 battery. It's max brightness is the highest among the Headlamps at 2700 lumens. Also, when removed from the bracket the multipurpose, 90 degree design allows the headlamp to double as a handheld flashlight or work light.
Who needs one: Campers, explorers, runners, cavers 
NITECORE HU60
Why we love it: This headlamp is the latest technology in focusable headlamps. The HC60 is not only bright but its ability to seamlessly adjust from floodlight to spotlight makes it such a great light. 
Who needs one: Campers, cavers, and explorers.