Key Takeaways
21700 flashlights are the next-gen rechargeable flashlight with improved brightness and runtime.
They are powered by 21700 rechargeable batteries, the latest battery technology that powers electric cars.
21700 batteries have a higher capacity and energy density than 18650 batteries.
21700 flashlights often have standard USB-C ports that allow quick charging via power sources like AC, car, laptop etc.
21700 Flashlights are Better Rechargeable Flashlights
Since being introduced, rechargeable flashlights have proven themselves to be better than non-rechargeable ones in many ways. Rechargeable flashlights caused a big shift in the flashlight industry, and now flashlights are seeing another monumental change. 21700 battery-powered flashlights are taking the flashlight scene by storm. 21700 flashlights outshine the previously used 18650 battery flashlights in many ways, pun intended.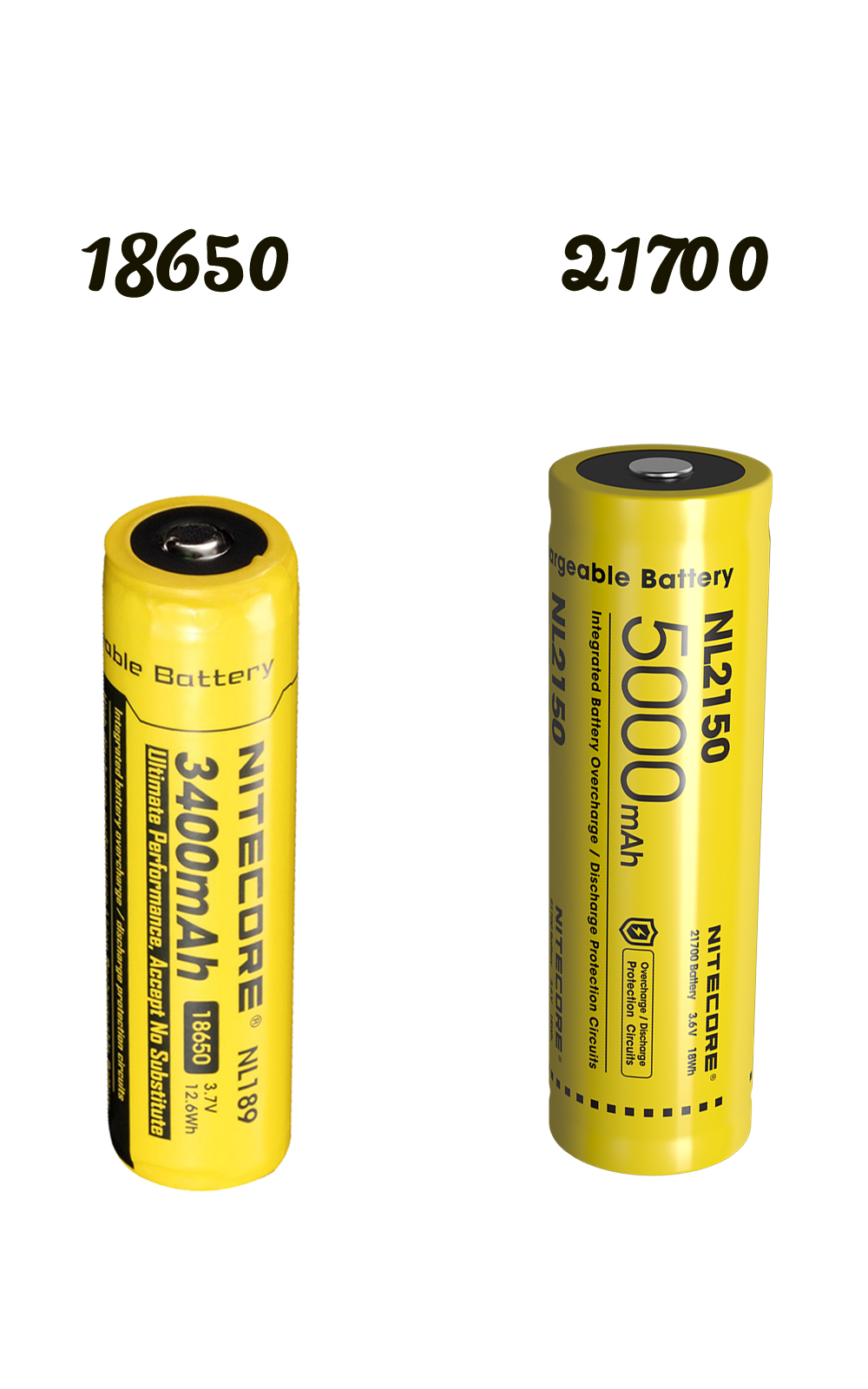 A 21700 Battery Has More Energy Capacity Than a 18650
The very popular 21700 cell battery was first introduced in the car industry for powering electrical cars. Tesla and Panasonic developed the 21700 cells to be used in Tesla's vehicles. And, as you recall from our 21700 Battery Guide, the difference between the 18650 and 21700 battery cell is the overall energy capacity possible. The upgraded 21700 battery has a maximum capacity of 5000mAh, while the 18650 has only a max capacity of 3600mAh. This jump in capacity is over 40% of an increase.
The upgrade in capacity also means an increase in size, so the 21700 battery is slightly larger than the 18650. Meaning, older flashlights that used a 18650 battery will not be able to use a 21700 battery. On the flip side, 18650 batteries are not large enough to make a solid connection in a 21700 flashlight. But no need to fret, some new 21700 flashlights come with a 18650/CR123 battery magazine. This adapter helps make up for the extra length and diameter of the 21700 battery. Because 21700 batteries usually have a higher capacity, using a 18650 battery on a 21700 flashlight will not get you the same peak performance. Nonetheless, it is always handy when you're in a crunch.
21700 Flashlights Are Brighter With Longer Runtime
This upgrade in maximum capacity means that the 21700 battery is able to take rechargeable flashlights to a new level. Often, you will see either an increase in maximum lumen output, or an increase in run time on a single charge, or both. For example, the Nitecore R40v2 can put out a 1000 lumen output for over 2 hours. This is extremely impressive considering that previously if a flashlight had 1000 lumen output it could not run on that setting for more than an hour.
We also see an increase in max lumen output using a single battery. The Nitecore i4000R is able to put out 4400 lumens on a single 21700 battery. That's about double what a single 18650 battery could do on average. And on lower light settings, 21700 flashlights are able to sometimes run for hundreds of hours on a single charge. As in the case of the Nitecore MH12S, it can run on the ultralow setting for 1,500 hours. This is good because you don't have to increase the number of batteries within a flashlight in order to increase its performance. Flashlights are able to maintain their compact size while boasting better performances.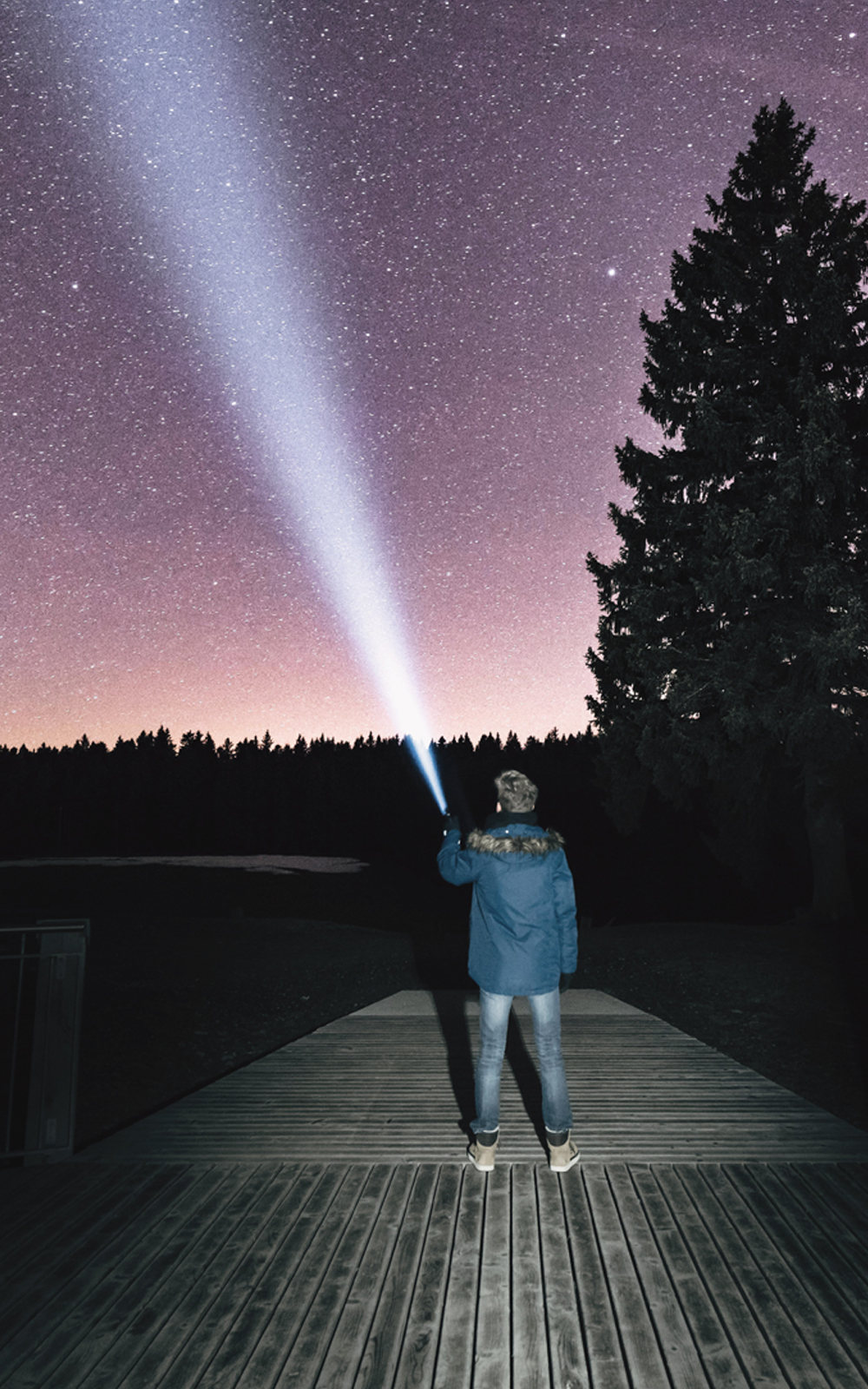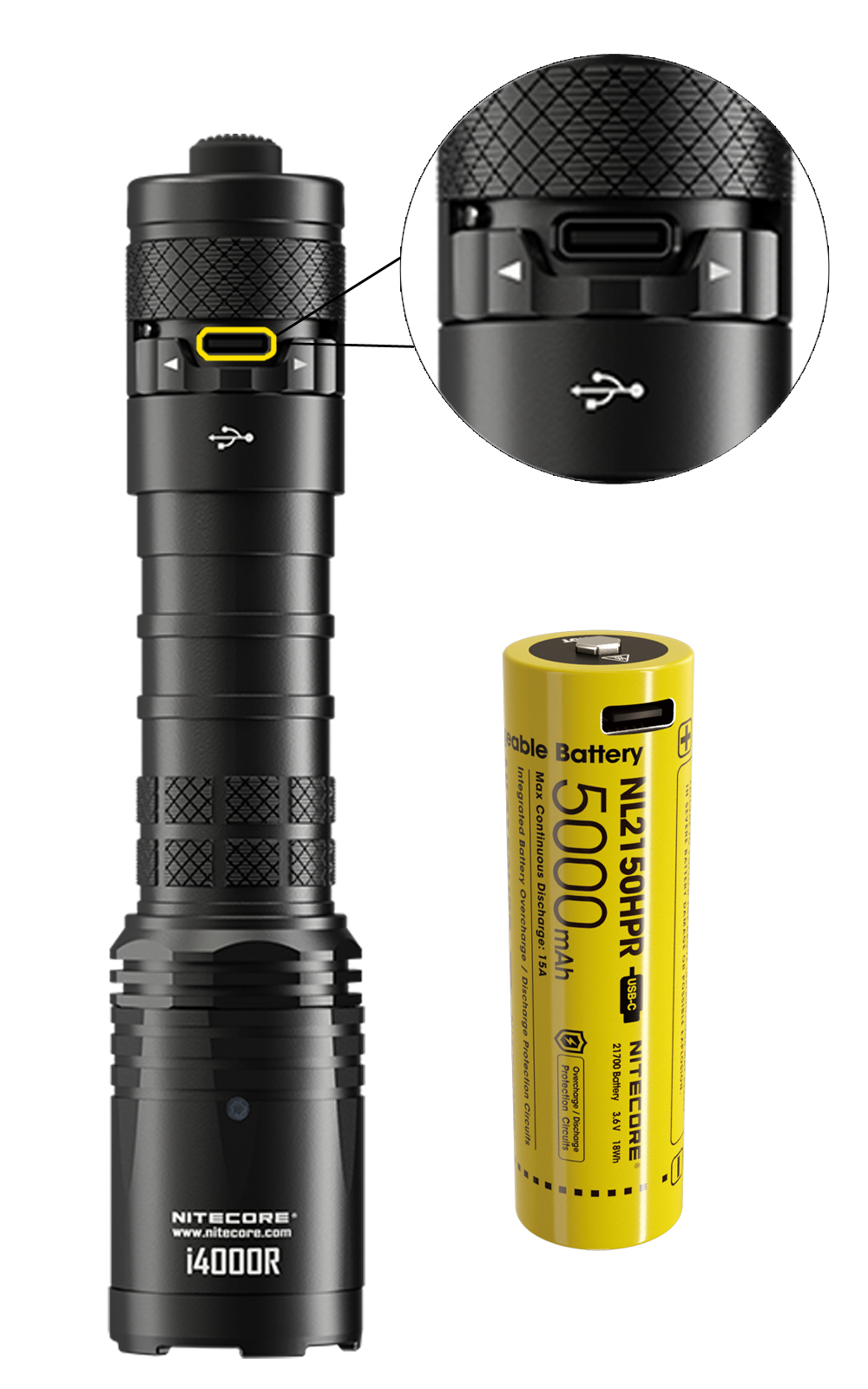 USB-C Charging Support is Superior
New rechargeable 21700 flashlights are being developed with USB-C ports included in them. This is important because USB-C ports technology allows them to charge much faster than Micro-USB ported flashlights. For flashlight users, this is important because it means less time charging your flashlight and more time actually using it. Flashlights such as the MH10S, P10i, and MH12S are some of those flashlights that now feature a USB-C charging port.
Also, some 21700 batteries have a USB-C charging port on the battery themselves. That way if the flashlight does not have a built-in charging port, you will be able to charge the battery directly with a USB-C cable. This is extra handy when you carry spare batteries with you. So, instead of charging each battery inside the flashlight one by one, you can charge them by themselves all at once.
Nitecore's 21700 Flashlights
Of course, Nitecore has an impressive lineup of 21700 flashlights ranging from EDC flashlights, tactical flashlights to super bright long-throw searchlights that are compact and rechargeable. Take a look for yourself and choose one that's best for you.