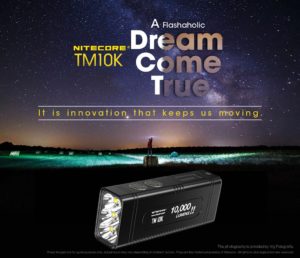 "I still remember when I was voting together with a bunch of flashaholics in an online forum to express the opinions on our dream flashlight a dozen years ago. What features would there be in this dream flashlight? The adventurous story behind it or its unprecedented high power? The result turned out to be this – a compact and handy one equipped with an OLED display, powered by one rechargeable Li-ion battery and available for an output of 10,000 lumens. Even though it seemed to be unreachable bath then, this dream has always been unforgettable in my heart. The day has finally arrived for a dream come true." — NITECORE TM10K design team
Our NITECORE technicians have racked our brains to put forward a million options to achieve 10,000 lumens. We carried out feasibility tests on idea after idea such as utilizing multiple CREE XHP70.2 LEDS or CREE XP-L LEDs. Ultimately, we chose 6x CREE XHP35 HD LEDs mainly due to the considerably high energy conversion efficiency. For a flashlight with a small size, these LEDS maximize utilization of electrical power and reflective efficiency of the reflector.
Highly Energizing and Revolutionary 21700 Battery
You might be curious about how this flashlight is able to emit such a high output. To achieve 10,000 lumens from 6 CREE XHP35 HD LEDs, the TM10K requires more than 100W and 35A output current – that's 10 times the output of the P12.
IMR 18650 was the first option that came to our minds, but we soon gave up this idea after initial testing failed to live up to expectations. Eventually, we set our sights on the revolutionary 21700 battery which was originally designed for electric cars and features a higher performance and larger capacity. We selected the INR 21700 48G manufactured by Samsung SDI. Its 35A discharge current and powerful 4800mAh capacitiy is more than double a normal IMR 18650 and greatly satisfies the demand of current and runtime for the TM10K.
Cooling Design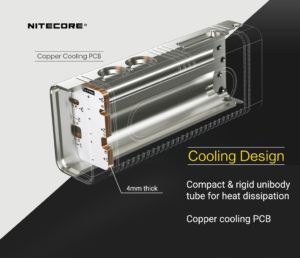 Very soon after settling on a power solution, we met another stumbling block in the design process as massive heat produced by the LEDs, the circuit, and even the battery became another challenge we had to face.
The first solution for the NITECORE technicians used to solve this problem was to design a compact and rigid unibody tube to enable a timely dissipation of heat for the TM10K.
Secondary, the LEDs have been embedded on 4mm-thich copper cooling PCB to be organically integrated with the tube and accelerate the cooling process. Additionally a CNC aluminum heatsink is used to keep the battery isolated and unaffected by heat.
Finally, an MPS circuit and power inductor are used to decrease the systematic heating and increase the circuity efficiency.
Integrated Thermal Sensors and Multifunctional OLED Display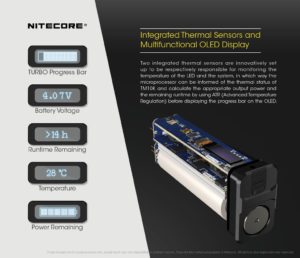 Two integrated thermal sensors are innovatively set up to monitor the temperature of the LEDs and overall system.These sensors report the thermal status of the TM10K and calculate the appropriate output power and remaining runtime by using ATR (Advanced Temperature Regulation) before displaying the progress bar on the OLED.
The Irreplaceable Battery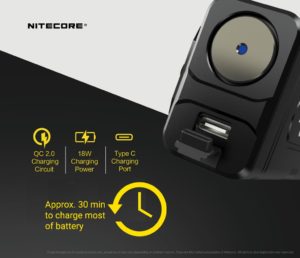 Our very first design was a battery-replaceable prototype. However, according to our repeated tests, the contact components would be oxidized due to high current and electrical resistance. In the end, we decided to built in the battery by welding it into the flashlight to ensure our high standards for performance.
To support the built-in battery, we have included a QC 2.0 charging circuit and USB Type-C charging port on the tail of the TM10K, enabling a fast recharging process at 18W max power. Approx. 30 minutes is enough to time to recharge a battery most of the way.
Unbelievably Compact and Handy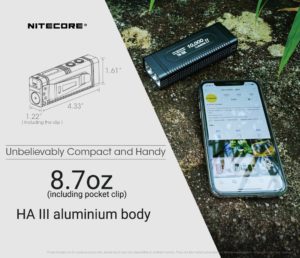 LED flashlights with high outputs are often constructed with a large and heavy body to ensure their stability and cooling performance. On the contrary, the TM10K is endowed with an HA III aluminum unibody, providing a rigid structure and fast, cooling efficiency. The built-in li-ion battery also makes a great contribution to reducing  the TM10K's overall size. Smaller than an iPhone, the TM10K also minimizes weight at only 8.7 oz (including the clip) to form an unbelievably compact and handy flashlight.
Optimized Runtimes & Customizable HIGH Mode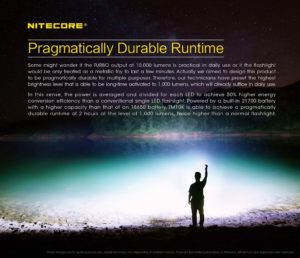 Some might wonder if the TURBO output of 10,000 lumens is practical in daily use or if the flashlight would only end up as a fancy paperweight after a few minutes. In reality, we designed this product to be pragmatically durable for multiple purposes. As a result, the TM10K is optimized to run at 1,000 lumens for up to 2 hours at time. That's twice as long as a normal flashlight!
Another idea from our technicians was to allow a customized present HIGH level between 400 – 2000 lumens. When in setting mode, the OLED display will show the current brightness level while the user can increase or decrease the preset level by 100 lumens to meet their preference.
Two Lockout Options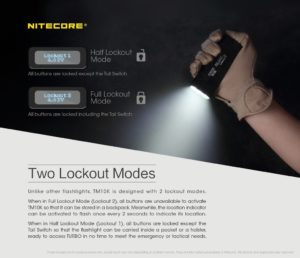 Unlike other flashlights, the TM10K is designed with 2 lockout modes.
When in Full Lockout Mode (Lockout 2), all buttons are unavaible to activate for storage in bags or backpacks. In this mode, the location indicator can be activated to flash once every 2 seconds.
When in Half Lockout Mode (Lockout 1), all buttons are locked except the Tail Switch so that the flashlight can be carried inside a pocket or a holster with ready access to TURBO for emergency and tactical needs.
550 Paracord Compatible