Key takeaways for choosing the right headlamps:
Headlamps are often the preferred lighting tool due to their hands-free nature and floody beam profile.
The output is the most important feature, so be sure to consider brightness, intensity, color temp and secondary colors.
There are different headlamp shapes and sizes such as L-shap, mini's and traditional. The one you need depends on the use.
Headlamps can have built in rechargeable batteries or removable ones.
Headlamps are primarily made from one of two materials: aluminum or polycarbonate (PC) materials, both are durable and lightweight.
Headlamp Basics: How to Choose the Right One
If you need help finding the best headlamp for you, this in-depth headlamp buying guide has you covered. For task-specific lighting, headlamps are often the preferred lighting tool due to their hands-free nature and floody beam profile. And with so many options to choose from these days, there's bound to be the perfect one for you.
Keep reading this headlamp buying guide to learn what matters on a headlamp or check out this blog with more tips for finding the best headlamp for you.
Headlamp Outputs
Let's start with the most important feature of your headlamp: the output. It may seem obvious, but it's vital to make sure yours is capable of doing what you need it to do!
Brightness & Beam Intensity: Unlike flashlights which are handheld, it's important to pick a headlamp that's bright enough for what you need without going overboard. Why? A brighter one in most cases also means a bulkier one which can lead to comfort and wear issues over time. Headlamps are also going to be more floody than a similar flashlight which is a good thing. The even wash of light that is produced from a shallow reflector found on headlamps is ideal for pathway lighting, task lighting and work lighting. You can learn more about how flashlight brightness is measured here.
Color temperature / CRI rating:

You probably know that not all white lights are created equal, and if you are sensitive to cooler tones or need a light that renders colors accurately, this is the feature to pay attention to. Color temperatures are often classified as "cool" or "neutral" or "warm" and can give you a good idea of whether the LED will emit light that is more blue or yellow in tone. Taking it a step further, the CRI or color index rating of a flashlight is a helpful guide to how similar colors will appear when compared to natural sunlight. The closer to 100 the light is rated, the more sunlight-like it it.

Secondary colors

: Many headlamps include a secondary red LED output that's very popular with campers, photographers, and hunters. Red light appears much dimmer to the human eye which prevents ruining your night-adjusted vision with harsh glaring lights. It's also handy for avoiding detection by other animals and insects.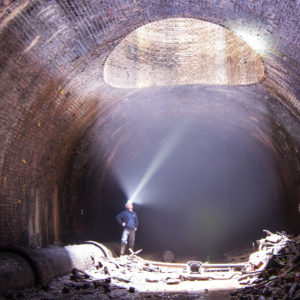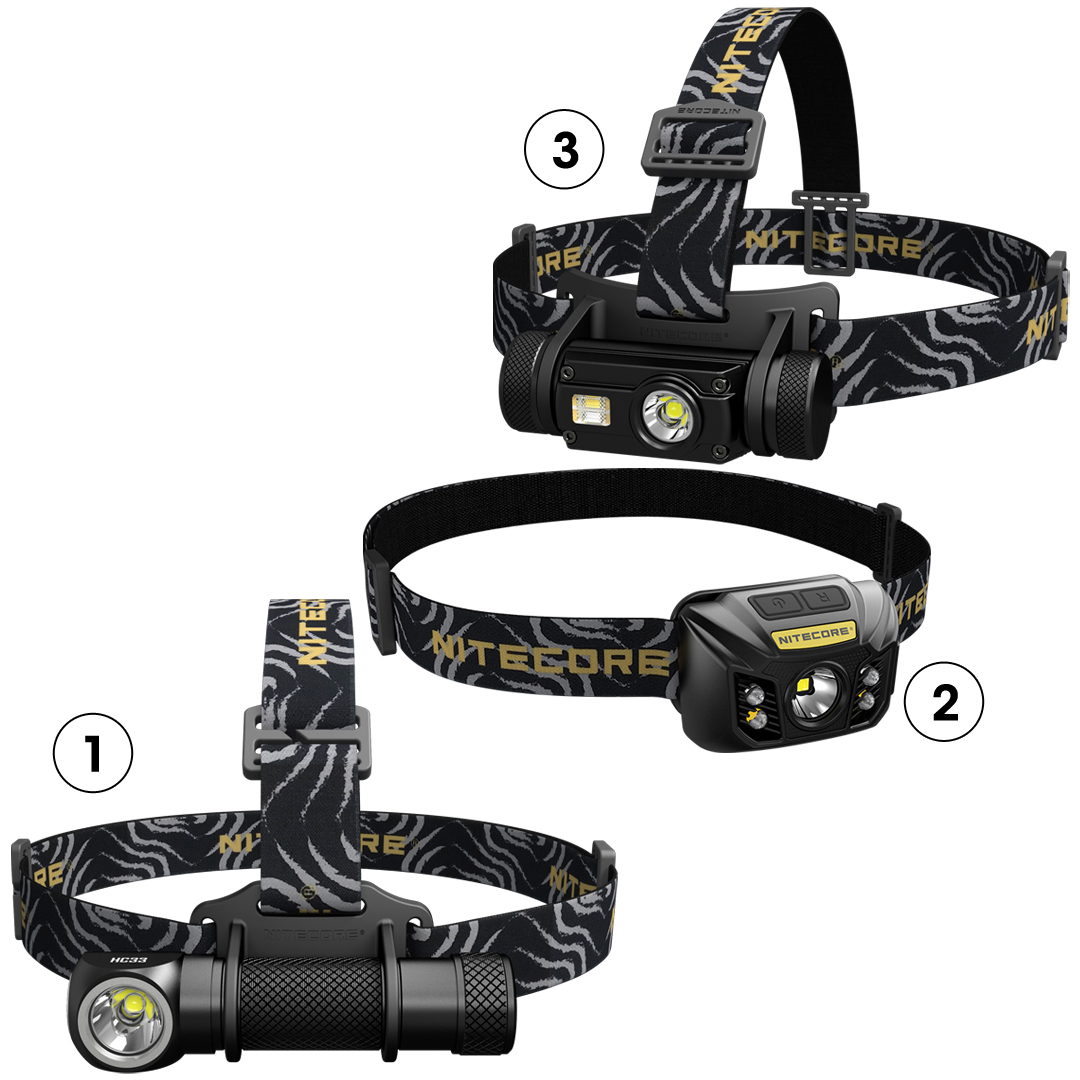 L-shape:

Otherwise known as a right-angle headlamp, these lights use a slim body tube with a reflector set into the side of the tube rather than the end. The big advantage of these lights besides their minimalism is the ability to convert to a handheld flashlight when removed from a headband.

Mini:

If you're going to be moving around a lot, look for smaller "running" headlamps built for active wear. The ultra light bodies will hold in place and thanks to LED technology still provide a powerful beam of light for running, jogging, cycling, home repair, and emergency backup.

Traditional:

Designed exclusively to be used as a headlamp, these lights can feature a range of outputs and extra features. For bigger ones, look for a top strap on the headband to help balance the load and/or external battery packs to shift weight to a belt or bag.
Rechargeable Headlamps and Batteries
Rechargeable li-ion batteries:  Prized for their rechargeability and energy density, these cylindrical batteries are the gold-standard for LED headlamps and one of the most common. Learn more about powering your flashlight with li-ion batteries with our li-ion battery buying guide.
Non-rechargeable alkaline/Ni-Mh batteries:

These are the common AA, AAA, C, D size batteries you've likely had experience with your entire life. Although headlamps using these for power are dimmer and offer shorter runtimes than a similar li-ion powered light, the ability to easily locate replacement batteries is preferred by some.

Built-in battery packs:

Don't want to mess with batteries? Go for a built-in battery and simply pack a charging cable for when it's time to charge. You'll find this feature on many of the mini-sized rechargeable headlamps which also helps keep weight down for backpacking and running.
What Are They Made Of
They are primarily made from one of two materials: aluminum or polycarbonate (PC) materials. Both offer a durable yet lightweight shell that protects the the internal parts from damage. 
Aluminum headlamps are a good choice if you're concerned about bumps, drops, and rough treatment while a PC body will give you the lightest choice if weight is important to you.
Waterproof Headlamps
Weather is unpredictable, but your headlamp's waterproof rating is not. All NITECORE headlamps have an IP waterproof rating to help you understand how each one will handle in wet weather. You can find an in-depth look at waterproof ratings here. 
For the best waterproof protection, look for ones with either an IPX8 or IP68 rating. 
Compare NITECORE Headlamps
As you might have guessed, NITECORE has a headlamp just about any situation you can think of. You can learn even more about the NITECORE headlamp lineup here or start to browse and compare all of NITECORE selections.