Key Takeaways:
Headlamps were design to for the head
Wrap the headband on your arm
Cinch the headband on your thigh
Try the new belt light, UT05
Wonderful Ways to Wear Headlamps
Who said headlamps should only go on one's head. No one, truly no one is that fastidious. Not to mention the topic of headlamps is rather tepid and purely functional at best so it is not often a topic of clashing principled notions. I have always been one of those people who find a way, a bootleg Macgyver, an informal backyard southern engineer. A factotum in which one hand I wield WD-40 and in the other, clutched firmly is a roll of duct tape. That seems like sufficient exposition to establish headlamps can be used in ways that one might not have expected.
wearing light headlamps
wearing lights headlamps
Ahead Headlamps
When I think about headlamps, usually coal miners come to mind. The profession that most certainly brought headlamps to the forefront of fashion. However, for non-miners headlamps are great for walking, running, biking, jogging, hiking, synonymizing, looking up outdoor activities onlining, and of course camping. Sometimes I will put on a headlamp in lieu of a hat as my cephalic accessory. Why should hats have all of the glory? Although hats with a brim may help block out the sun from shining into our eyes, The noble headlamp provides that same sun-like power of providing light when you need it. Long story short, headlamps are useful, but usually in private, or by the nature of its functionality, in dark, usually unsociable places where one does not need to take heed to modern trends.
wearing light headlamps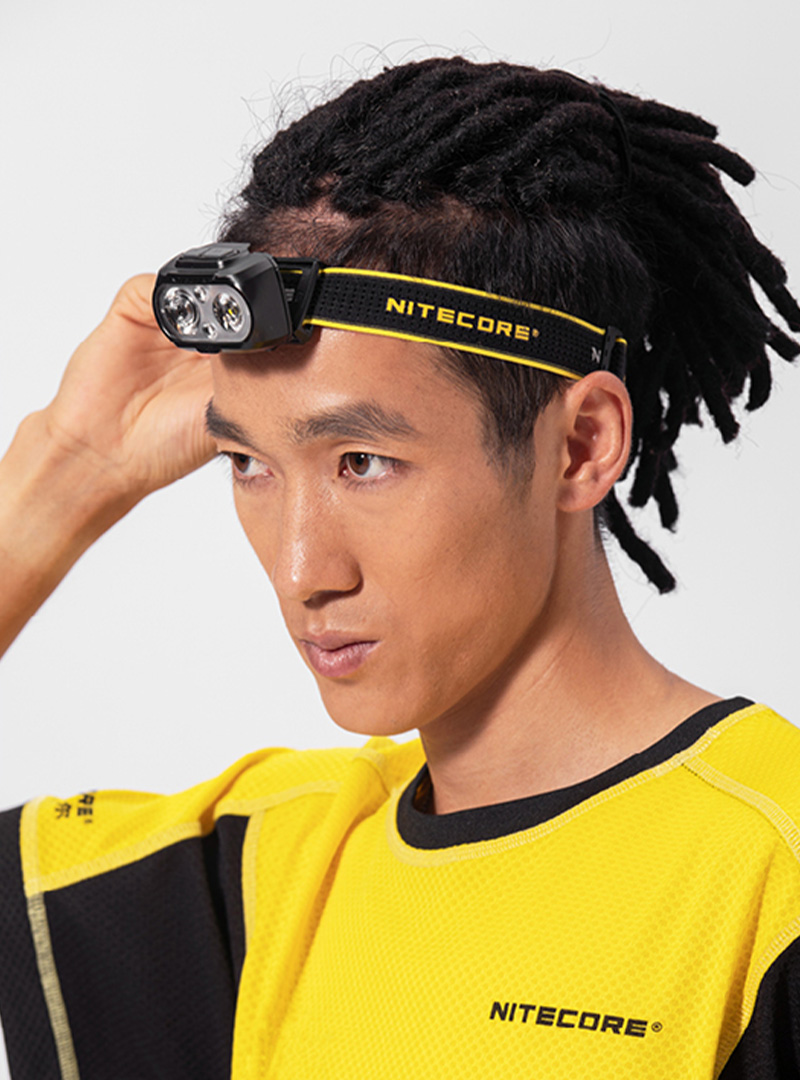 Armed Armbands
The first appendage we will visit is that of the arm. Do you remember how during the early 2000's when iPods took the world by storm and small, flat, discrete electronics truly illustrated the depths of human insufferability. Along with these small electronic mp3 players and phones came the "sporty" armband that held said electronic device so you could really underscore one's superciliousness. One could utilize a headlamp in the exact same fashion. By tightening the strap all the way, double, or triple layering it, if you have a particularly small arm diameter. One could wear one of Nitecore's headlamps on their arm facing the road with an auxiliary red light or beacon mode activated. This acts as a rudimentary signal light alerting others of your presence, rationalizing that this increases safety and awareness.

wearing lights headlamps
Thy Thighband
The next logical step when it comes to extremities is the leg, because we have already covered the arm. I think it might have been the Tomb Raider…or perhaps Han Solo…or any macho protagonist in a war movie that created the impression that thigh holsters are cool. Either way I always wondered why there are not more thigh band based tools. Well now is your chance to start. In the similar vein of the new Nitecore UT05, wearing a headlamp on your thigh gives you the ability to provide lighting that is synchronized, literally with every step.

wearing light headlamps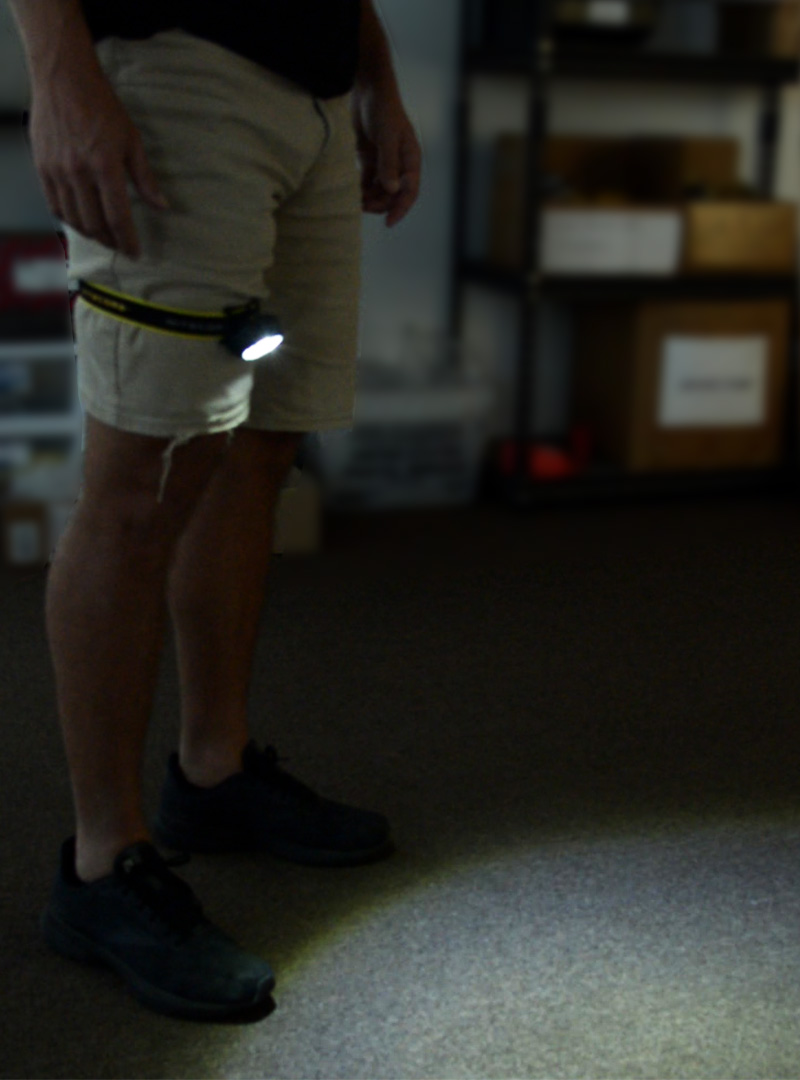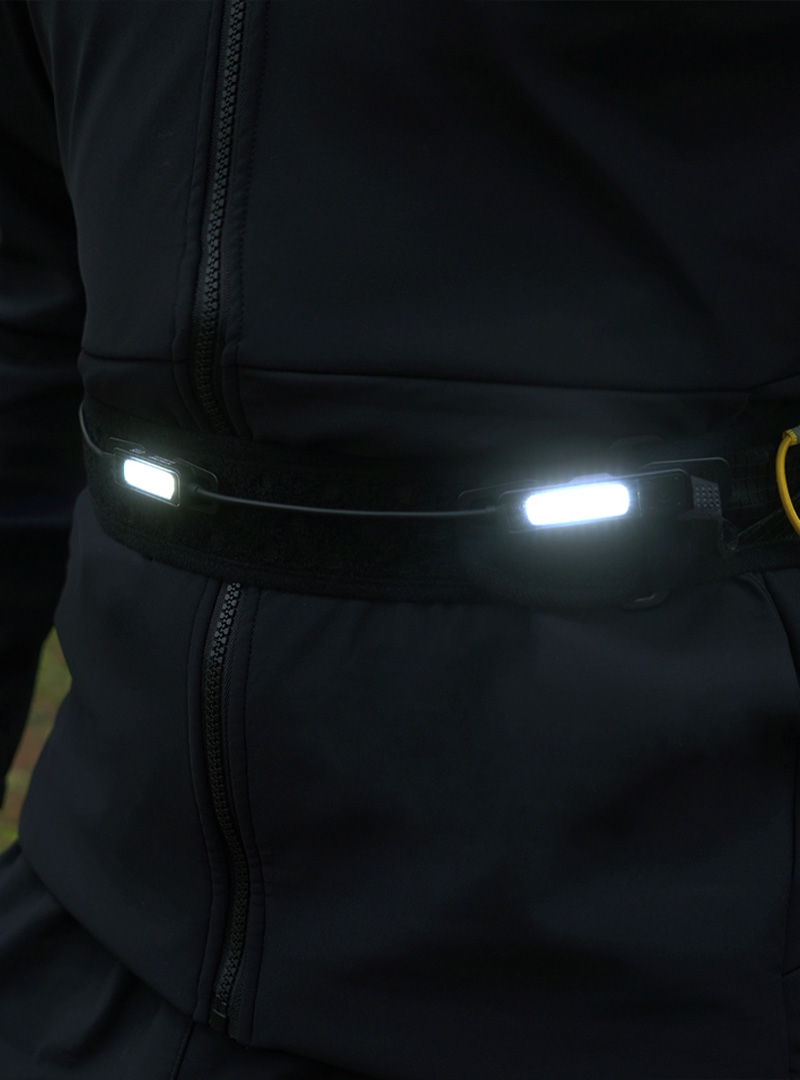 Wait Waist-light
The Nitecore UT05 is a bright yet lightweight running light that wraps around the waist through the belt loops or running belt. Its dual LED modules emit a maximum of 400 lumen 160° wide flood beam that covers the ground up to 29 yards in front of you, which ensures the ultimate visibility and safety. Rated IP66 water resistant, this thing works rain or shine, and is made from durable anodized aluminum for the extra reliability and durability. The UT05 is perfect for night running, dog walking or jogging during dawn and dusk.
wearing light headlamps/h2>
wearing light headlamps
Elope by Looping
Finally, any headlamp can be attached to any exposed loop, such as the one on your trousers, or perhaps a backpack strap by the mechanism of linkage. Doing this allows you to create a giant system of lights on one's person like one of those libertine attendees of modern music festivals. Try this if you are the type of person that does not like the sensation of wearing a strap. Seriously, the reason the Nitecore UT05 was developed was because runners especially did not enjoy the sensation of a headlamp eventually losing grip and bouncing around while running. This problem can be alleviated by attaching the loop of the headlamp to a backpack strap or belt loop.

wearing light headlamps