Flashlight Basics: How to Choose a Flashlight
With so many LED flashlights available, it's easy to feel overwhelmed when trying to find the best flashlight for your needs. To cut out some of the mystery and answer some of the most common questions we get asked, this LED flashlight buying guide will teach you everything there is to know about today's flashlights.
Flashlight Outputs
Your flashlight is only as good as what it's intended to do. You wouldn't use a hammer to tighten a screw just as much as you wouldn't use a flood light for search and rescue. You can learn all about the anatomy of a flashlight beam here and get an understanding of what's going on inside your flashlight when you turn it on.
So what's important to know? Two things!
Brightness

, which is

measured in lumens

, will tell you how much light is emitted overall. The higher the number, the brighter the light will appear overall.

Beam Intensity

, which is reported both in candelas as well as throw distance, takes things one step further and tells you how focused (or not) the flashlight will be. If you're comparing two flashlights with the same max lumen rating, a higher candela rating would indicate a more focused beam that can throw longer distances whereas a lower candela rating would suggest a floodier output that has a less noticeable center point.
Flashlight Sizes & Shapes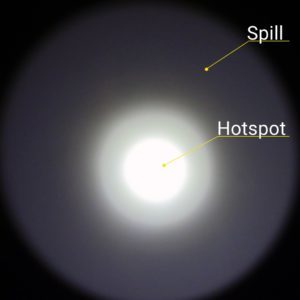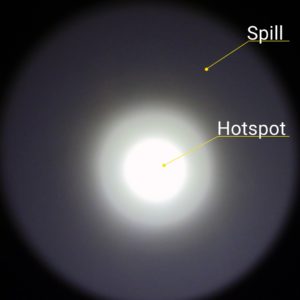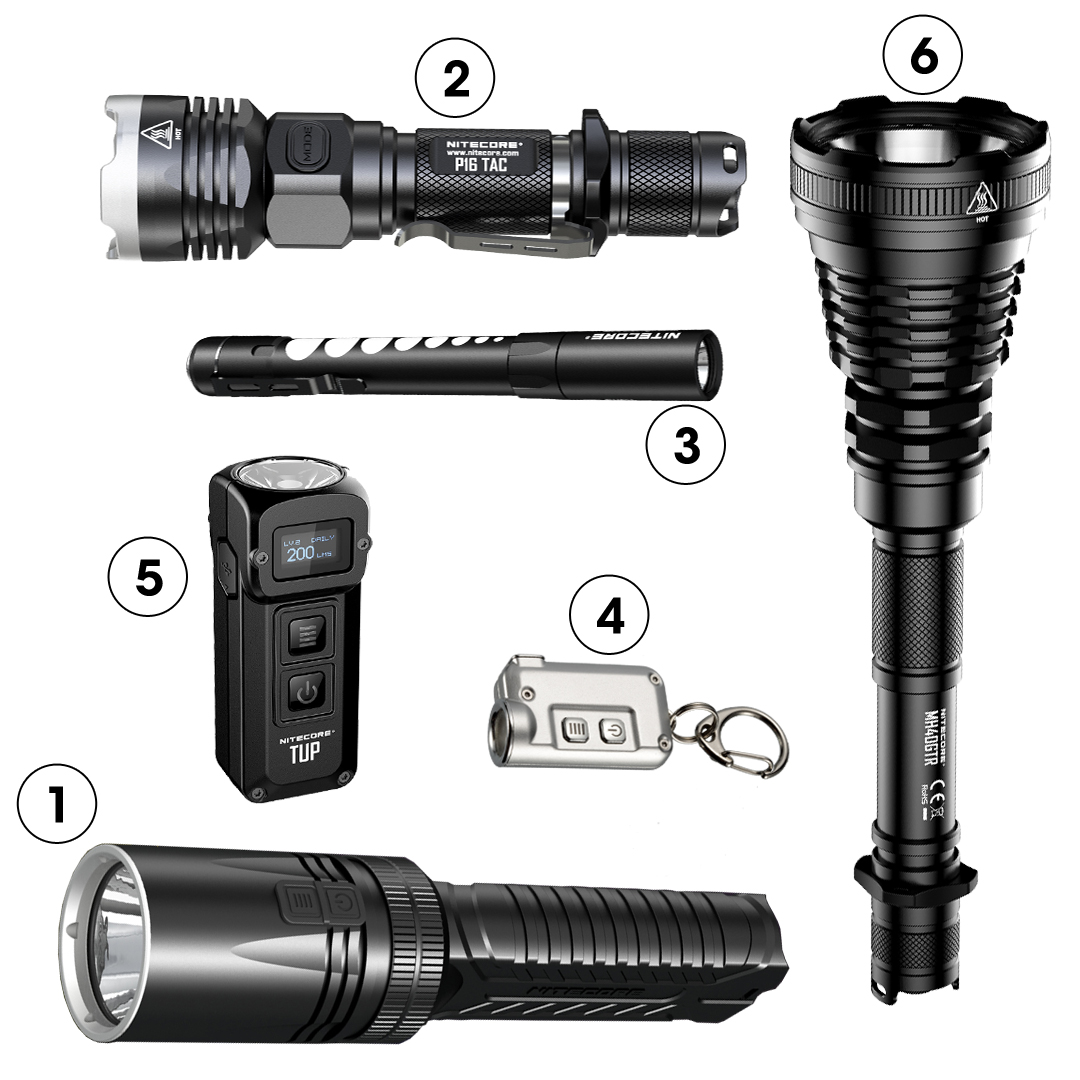 LED flashlights can be as small as a postage stamp and big enough to need a carrying strap with a wide range of shapes and designs in between.
For an in-depth look at all the different styles available, check out our complete guide to flashlight interfaces. If you're short on time, here's a basic breakdown. 
Basic handheld flashlights

: Range from ~3" – 7" long, handgrip is either tube or a flat, paddle shape for extra grip.

Tactical flashlights:

Range from ~4" – 6" long with a 1" cylindrical body tube to allow for weapon mounting. These flashlights often feature a crenulated/strike bezel for glass breaking.

Pen light or stylus flashlights:

Usually measure ~5" long and shaped like a pen. Overall diameter is under 1".

Keychain flashlights:

Available in a variety of shapes and styles with the hallmark being a small, lightweight size that fits comfortably on a key ring.

Everyday Carry flashlights: Typically a small, pocket-friendly flashlight that provides backup light for daily tasks. Can often feature "tactical" features and controls.
Throw flashlights:

Uses a wide diameter and deep reflector to create a focused beam with a high peak beam intensity. Usually larger and longer than a traditional handheld or tactical flashlight to facilitate the required bezel.
What are flashlights made of?
Aluminum is frequently the material of choice for LED flashlights because it provides a durable shell that is also lightweight. 
Other popular options include copper, titanium, and polycarbonate (PC) materials. Copper is a frequent favorite among EDC enthusiasts for the beautiful and unique patina that develops over time while titanium is lauded for its ultra tough properties. PC material bodies are more common in flashlights and headlamps where weight is a concern and an extra tough exterior is less important. 
LED Flashlight Batteries
A flashlight is only useful as long as it has a source of power, so spending time making sure the battery for your flashlight fits your needs will save a lot of frustration down the road. Here's a quick look at the main power options you'll find.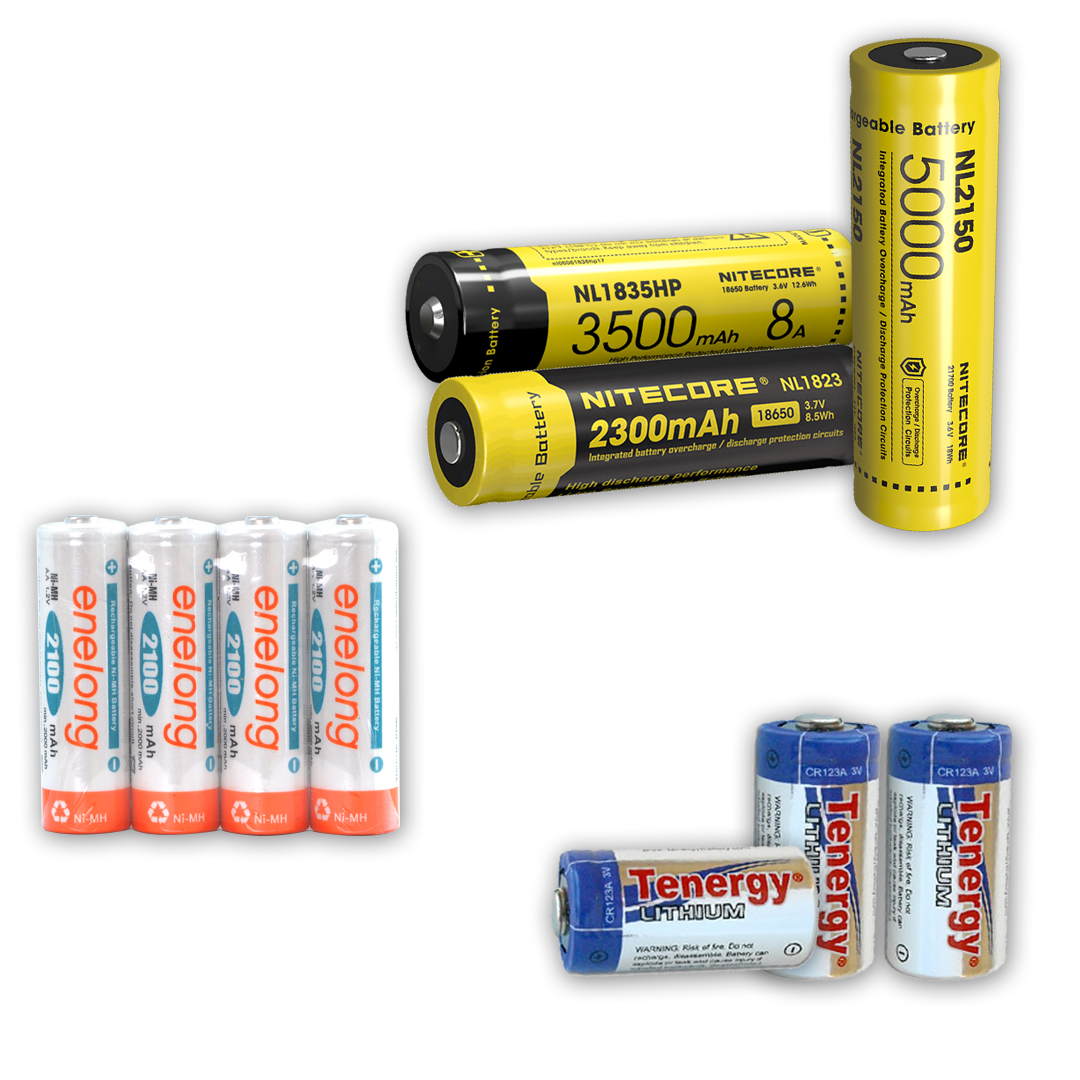 Rechargeable lithium ion batteries:

Prized for their rechargeability and energy density, these cylindrical batteries are the gold-standard for LED flashlights and one of the most common. Learn more about powering your flashlight with li-ion batteries with our

li-ion battery buying guide

.

Non-rechargeable alkaline/Ni-Mh:

These are the common AA, AAA, C, D size batteries you've likely had experience with your entire life. Although flashlights using these for power are dimmer and offer shorter runtimes than a similar li-ion powered light, the ability to easily locate replacement batteries is preferred by some.

Non-rechargeable lithium ion batteries:

If you'll be using your flashlight in extreme low temperatures, consider switching to a non-rechargeable li-ion CR123A size cell. Two of these can replace an 18650 battery and will provide better performance in the cold.
Rechargeable Flashlights
Not only is it possible for the battery inside your flashlight to be rechargeable, but many LED flashlights nowadays include a built-in USB charging port so all you need is a power cable and USB power source to charge your flashlight.
If this is a feature you're interested in, check out everything you need to know in our guide to built-in rechargeable flashlights.
NITECORE Flashlights by Series
Finding the right flashlight from NITECORE is often as easy as knowing which series to look at. Here's a breakdown of every Series ins the NITECORE lineup and the type of flashlights you can expect to find in each.
(TM) Tiny Monster Series: The brightest and most powerful flashlights in some of the most compact, rugged bodies imaginable including the NITECORE TM10K at 10,000 lumens and small enough to carry in your pocket.
(P) Precise Series: Some of our most popular tactical flashlights are found in this collection of focused, powerful flashlights that transition between the duty belt, weapon mounted, and everyday carry uses with ease.
(MH/NM/i/R) Rechargeable Flashlights: Say goodbye to your external charger with this collection of flashlights all with built-in charging ports. From EDC to search lights, there's something for everyone here.
(E) Explorer Series: If outdoor adventures like camping, caving, backpacking, and hunting are on your list of favorite things to do, these high performance flashlights are perfect for lighting up the trail.
(T) Keychain Light Series: Don't let the word "keychain" throw you off. These ultra mini, USB rechargeable flashlights pack a serious punch of light that keep you safe and prepared for everyday life.
(MT) Multi-Task Series: A range of flashlight styles all created with versatility in mind. The result is some of the most useful flashlights around for working professionals, everyday carry, and emergency preparedness.
(C6/C7/SRT) Multi-Color Flashlights: Find a range of tactical flashlights fitted with secondary color LEDs such as red, green, blue, UV, and even IR. No need to carry a filter or second flashlight, these inclusive tools harness common color outputs used in law enforcement, security, hunting, and inspection.
(DL) Dive Lights: Only the most water-friendly options exist in this series of diving flashlights capable of going to depths up to 100 meters to give you a safe and easy diving experience.
(C) Concept Series: NITECORE's most innovative designs can be found in this Series dedicated to pushing the limits of what a flashlight can do. These are must-haves for true flashlight enthusiasts.