Rechargeable flashlights take care of one of the most important parts of any torch: staying powered. Gone are the days of disposable batteries that you toss after each use. Many modern flashlights support some sort of rechargeable battery while many even go a step farther and include complete charging support built-in. Although these flashlights will typically cost a little more than their non-rechargeable counterparts, we think the extra cost up front is well worth it.
Still on the fence? Here are our top 3 reasons you need to keep a rechargeable flashlight in your arsenal: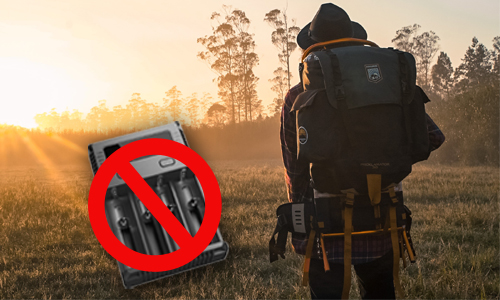 Reason #1: Rechargeable flashlights keep your gear slim
If you're going deep into the back country or just take a minimalist approach to your everyday carry, the benefit of a rechargeable flashlight is quite clear. Built-in charging eliminates the need for an external charger so you can save space in your gear for more important things.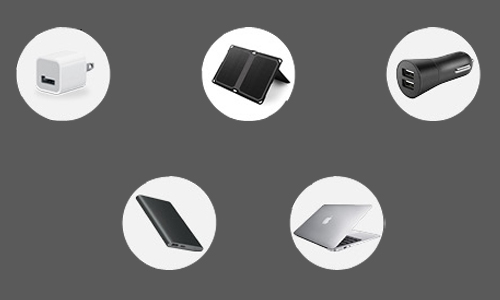 Reason #2: Rechargeable flashlights are convenient & versatile
Even if you rely on an external battery charger for the majority of your charging, it's always nice to have a backup option on hand. With built-in charging, your charger will always travel with you whether it's your primary or backup method. And if you stick with a USB rechargeable flashlight, you'll instantly have compatibility with universally found power sources in many laptops, power banks, solar panels and more.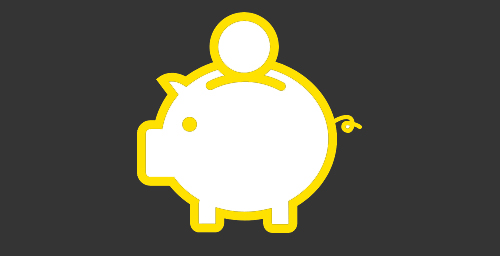 Reason #3: Rechargeable flashlights save you money over time
Rechargeable flashlights can be used over and over again so you'll spend less money on disposable batteries. Not only will your wallet thank you, but the environment benefits too!
AC/DC, USB and the Future of Rechargeable Flashlights
Many of the first rechargeable flashlights used a proprietary charging cable that required access to a wall outlet to charge. Although this was a good start, as you can guess, this is less than ideal for travel to remote locations and overseas.
More and more these days, flashlight manufacturers are opting to include micro-USB charging ports and even USB-C charging on the newest flashlights to make it even easier to find a compatible power source. Thanks to the proliferation of USB compatible devices, finding a USB power source is easier than ever these days.
Built-in vs. Removable Batteries
One final detail to consider when selecting a rechargeable flashlight is whether or not the battery can be removed. Built-in batteries guarantee that you'll never lose or have to source a replacement battery again. They're also extremely convenient.
The downside is your built-in battery will eventually wear out and be unable to hold a charge and you can't carry backups. If you're of the "buy if for life" mindset or need to run the flashlight longer than one charge supports, you'll want to aim for a rechargeable flashlight with removable battery. This will allow you to replace the battery when it wears out and carry extras for longer runtimes!
Expert picks for the Best Rechargeable Flashlights
With so many great options available, you might be feeling a little overwhelmed. Our gear experts have put together our top NITECORE picks for rechargeable flashlights to help you get started.
Best Small Rechargeable Flashlight
The NITECORE TIP2 rechargeable keychain flashlight is the much-anticipated follow-up to the popular TIP keychain light and boasts some impressive upgrades. First, the max output is doubled to 720 lumens to give you the power of a full-size flashlight in the same thumb-size footprint as before. NITECORE also added a quick-release magnetic tail cap that makes taking the TIP2 off your keychain simple while also acting as a port cover for the built-in USB charging port. The TIP2 even comes with a removable pocket clip so you can find your preferred way to carry this incredible little light.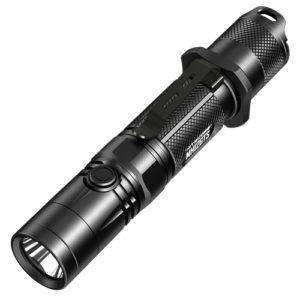 Best Rechargeable Tactical Flashlight
The NITECORE MH12GTs rechargeable tactical flashlight is easily the flashlight we recommend to customers the most. The MH12GTS offers up to 1800 lumens of output with 247 yards of throw distance and features a tactical tail cap and side mode control switch. Compact enough to be carried in your pocket or with the included holster, the MH12GTS is an excellent choice for professional and hobbyists alike.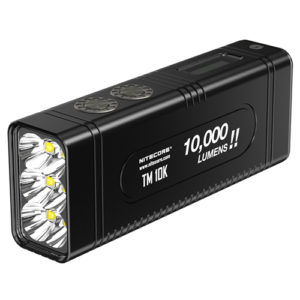 Brightest Rechargeable Flashlight
If finding the brightest output is your top concern, look no further than the NITECORE TM10K super bright rechargeable flashlight. Reaching an intensely bright 10,000 lumens, the TM10K is the brightest flashlight made by NITECORE and features USB-C charging.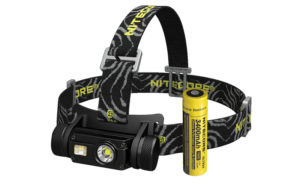 Best Rechargeable Headlamp
Ever since its release, the NITECORE HC65 rechargeable headlamp has been one of our favorite products for anyone who needs hands-free lighting. This 1000 lumen, rechargeable headlamp gives you the choice between white, red and high CRI outputs and offers one of the easiest to use interfaces around.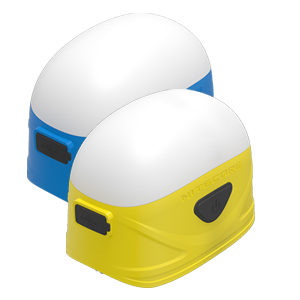 Best Rechargeable Lantern
If you're looking for something more diffused than a traditional torch, the NITECORE LA30 rechargeable lantern is our go-to. This 250 lumen mini lantern gives you the choice between 2x AA batteries or a built-in li-ion rechargeable battery making it one of the most versatile lanterns on the market. Add in the magnetic base and secondary red light, and this lantern becomes a must-have for your next camping trip.