Key Takeaways:
Make a list of things to bring with you - this will help you prepare and will help when it's time to pack up
It's best to pack an item even if you're not sure if you need it
Cover your basic needs first before you pack other products that are for entertainment
It's about to be camping season
With summer break just around the corner, it's finally time to pack your things and venture out into Mother Nature. While some people spend their outdoor time in smaller quantities, others prefer week-long camping trips to connect with the great outdoors. Camping allows us to disconnect from the digital world and immerse ourselves in nature's tranquility. Whether you like to hike, swim, fish, stargaze, etc., there's something for everyone to enjoy. If you're thinking about taking a camping trip, it's best to plan and make a list of things to bring. That way, you can check your list to make sure you're bringing everything you need and are returning with it. If you don't know where to start, here are the top ten things to bring when camping.
#1. A Tent
If you're not staying in a cabin during your trip (aka glamping), you're going to need one of these. A tent will act as your home away from home and can be your designated base point throughout the trip. A tent can protect you from the outside elements like the sun or cold temperatures and provide a comfier place to sleep than just the ground.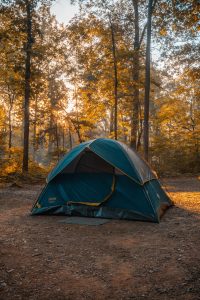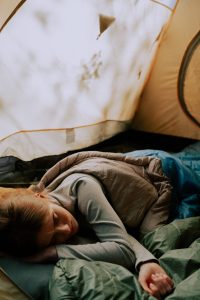 #2. Sleeping Bag/Sleeping Pad
Speaking of sleeping, a sleeping bag or pad is a must-have on your trip. While you technically only need a sleeping bag, a sleeping pad can provide extra support under your sleeping bag for those who need more comfort. A sleeping pad will also keep you more insulated in your sleeping bag because your body won't be touching the ground, which is ideal in cold or wet scenarios.
#3. First-Aid Kit
A first-aid kit is one of the most important things to bring while camping. While throwing a few band-aids in your backpack seems appealing now, you should be prepared for any scenario - whether it's a small scratch or a deep cut. A lot of stores sell already prepared kits but if you're making your own we recommend things like:
Bandages (small and big)

Alcohol prep pads

Gloves

Aspirin/Ibuprofen

Allergy caplets

Antacid Pills

Gauze pads

Non-stick pads

Paper tape

Rolled gauze

Antibiotic ointment

Antiseptic wipes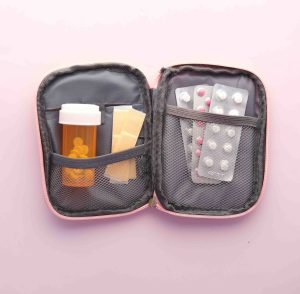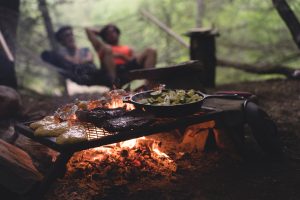 #4. Food and Water
Food provides the necessary nutrients and calories to sustain physical exertion, allowing you to fully enjoy your experience without succumbing to fatigue or weakness. Similarly, water is essential for hydration, especially in outdoor environments where you may risk dehydration. Staying hydrated aids in regulating body temperature, preventing cramps, and promoting overall well-being. A person can live without food for weeks but can only go without water for 3 days. Even if you're only camping for a day or two, it's always best to pack extra just in case. By bringing your own food, you can avoid relying solely on the availability of natural resources or limited campsite amenities, ensuring you have a reliable and sufficient supply of food throughout your camping adventure.
#5. Cookware/Utensils/Cooler
Speaking of food and water, consider what food you're bringing and if it needs to be kept cool or cooked. While small packaged snacks seem fun, this type of food won't be very nutritious for a multi-day trip. If you're a beginner to camping and want to avoid cooking with a campfire, we suggest bringing meals that don't require cooking and can be kept in a cooler like sandwiches, salads, and even charcuterie boards. If you're looking to use your campfire, we recommend foods like hotdogs or potatoes that can be wrapped in tinfoil. You can also bring a backpacking stove that can be fuelled by a small propane canister. This can help cook meals like chili, soup, or can boil water for backpacking meals that just need hot water. Depending on what you decide to eat, bring the proper cookware and utensils like plates, forks, a can opener, etc., and a way to clean up once you're done.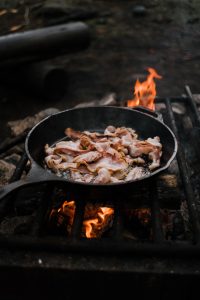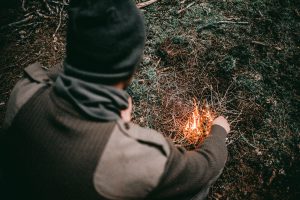 #6. Matches/Lighter/Fire Starter
When you think of camping, you usually picture yourself and your loved ones sitting by the fire, eating smores under a star-lit sky. If you're not a boy scout though, getting a fire started may be harder than you think. Even if you are a boy scout, it's never a bad idea to have one of these options as a backup just in case. Tools like these are convenient, reliable, and lightweight, making them perfect camping essentials. Having a fire at your campsite is beneficial for reasons like warmth, light, and can also be used for cooking.
#7. A Flashlight or Lantern
If you plan on staying overnight, a flashlight or lantern is a perfect addition to your camping gear. If you need to move away from your campfire, a flashlight is ideal for finding your way around in the darkness. If you're looking for soft lighting inside your tent, a lantern is a perfect choice to help keep the entire area illuminated. Depending on the brand, some flashlights even come with multiple settings like strobe or SOS which can be crucial in an emergency. Some lanterns, like the Nitecore LR60, can even double as a power bank if you're looking for a product with multiple uses.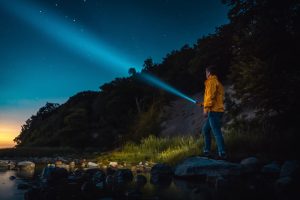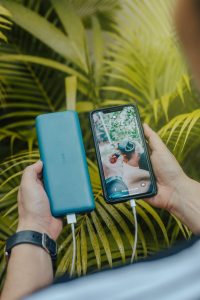 #8. A Power Bank
Bringing a power bank on a camping trip is a practical and essential choice for several reasons. We rely heavily on electronic devices for communication, navigation, and capturing memorable moments. While camping, having a power bank ensures that you can keep your essential devices, such as smartphones, GPS devices, or cameras, charged and functional. This reliable backup power source allows you peace of mind throughout your trip. By bringing a power bank, you can enhance your overall camping experience by ensuring convenience and safety.
#9. A Multi-Tool
A multi-tool is a great thing to bring as an overall way to be prepared for anything that happens. There are many different varieties and types of multi-tools so we recommend buying one specifically for camping. Many of these will feature tools such as a knife, a small saw, scissors, a bottle opener, pliers, screwdriver heads, etc. This is a great tool that can clip onto your backpack or carry on you so that you can always have it wherever you go.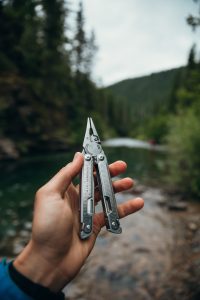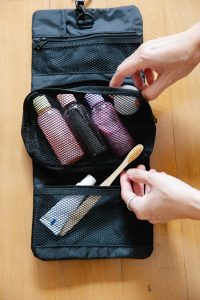 #10. Hygiene Products
Being confined in a tent with people for a few days means you'll probably be up close and personal with them. Be sure to bring products like deodorant, toothbrushes, and whatever else you need to keep yourself feeling and smelling fresh throughout the day. Many outdoor stores carry wipes that you can use in place of a shower. You can also purchase a portable shower if you want to stay extra clean on your trip - just make sure to bring extra water for it! Items such as toilet paper, tissues, and rags are also great to have on hand as well.
Recap
While we've given you a short list of things to bring with you, it's always best to do your own planning and research for your trip. Make sure you research the site and the surrounding location, keep an eye on the weather, and bring the appropriate clothes you need for your trip. You should always plan to cover your basic needs first before you pack other items like speakers, games, or other entertainment-based items.
If you're going to go camping, you should always prepare a list of things to bring. Depending on how long you plan to camp, your included items should cover all your basic needs like shelter, food, and protection. The top ten things you should bring with you on a camping trip should be:
A tent

A sleeping bag/pad

First-aid kit

Food and water

Cookware/utensils/cooler

Matches/lighter/fire starter

A flashlight or lantern

A power bank

A multi-tool

 Hygiene products
To look at any of Nitecore's flashlights or lanterns, click here for more information, or for power banks click here.