Are you looking for just the right gift for the EDC enthusiast in your life? Our Everyday Carry Gift Guide 2019 Edition will make you the hero of the holidays with top EDC flashlights, knives, and tactical pens from NITECORE that he can use day and night.
What does EDC mean?
EDC stands for Everyday Carry and covers a wide range of products designed to be carried daily to help you prepare for any challenge, task, or emergency. For some people, it might mean one or two essentials while others prefer a full pocket or bag of goodies.
Some of the most common EDC items include pens, flashlights, knives, pistols, journals, wallets, and more. For a complete discussion on everyday carry, check out our full EDC flashlight guide that covers everything you need to know.
EDC Flashlight Gift Ideas
EDC Keychain Flashlight Comparison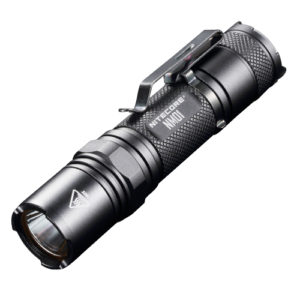 Why we like it:
The NITECORE NM01 makes getting started with EDC flashlights easy while still offering an output that's professional-quality. The palm-sized NM01 features a 1000 lumen output and a rear control switch that's tailor-made for inspecting, reading and searching. Best of all? The NM01 uses a built-in rechargeable battery so you don't have to worry about replacing or sourcing compatible batteries. Just plug it in and go!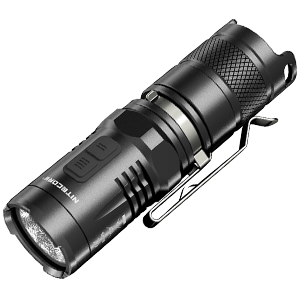 Why we like it:
When you want a little more control and options, the NITECORE MT10C is an excellent EDC choice. The 920 lumen white output is complimented by a secondary red output that can be used for night photography, star gazing, hunting and tactical use.
The other thing we really like about the MT10C? The dual control buttons and tactical tail cap make this one of the most user-friendly interfaces out there.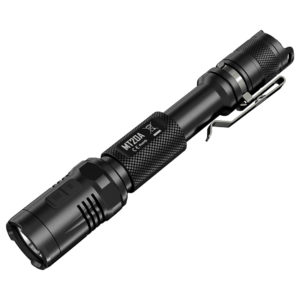 Why we like it:
If you prefer something that runs on commonly found batteries, the NITECORE MT20A is for you. Powered by 2x AA batteries, the MT20A supports a 360 lumen white output and secondary red light that you can use to illuminate all your everyday activities.
If you're shopping for someone who likes to carry things in a shirt pocket, the MT20A's pen-style makes it ideal for pocket carry.
Small EDC Flashlight Comparison
18650 EDC Flashlight Comparison
Why we like it:
When you don't need the full power of a larger EDC knife but still need the occasional blade, the NITECORE NTK05 scalpel knife is the perfect compromise. The ultra lightweight titanium frame is strong and durable, and the No. 11 scalpel blade can quickly and easily be replaced as it dulls.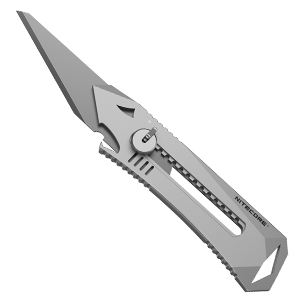 Why we like it:
From box cutting to glass breaking to opening bottles, the NTK10 titanium utility knife keeps you prepared for whatever life throws your way.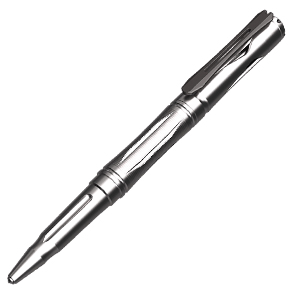 Why we like it:
The NITECORE NTP20 pen is a titanium-bodied, tactical pen that's also equipped with a tungsten tip for glass breaking. What does this mean for you? A lightweight yet extremely durable pen you can keep by your side for writing in all weather conditions that can also back you up in an emergency. Oh, and you'll look good doing it.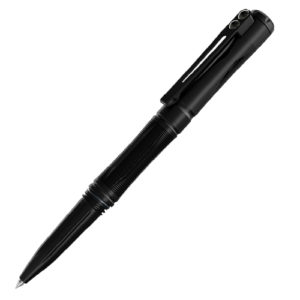 Why we like it:
The NITECORE NTP21 is the lighter, aluminum-bodied version of the NTP20 while retaining the same, high quality writing tip as NTP20. Whether you're taking notes at your next board meeting or field notes in the rain, the NTP21 prepares you for anything.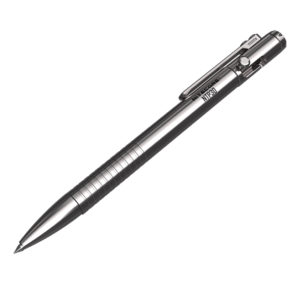 Why we like it:
When you want to get the job done and look impressive while you do it, put the NITECORE NTP30 titanium bolt-action tactical pen in your pocket. The NTP30 uses the same, high quality Schneider ink refills as the NTP20 and NTP21 but features a bolt-action retractable tip so you don't have to worry about losing your pen cap.
EDC Tactical Pen Comparison